SALT LAKE CITY — A new study looked at exposure to air pollution from vehicles during pregnancy and the first year of life and found a much greater risk of autism.
In August, a new school opened in Orem for children with autism — seen in one in every 88 U.S. children across the nation, but Utah is seeing much higher rates — one in 47, according to a recent study by the CDC.
The reason is a mystery, but now come questions about a possible autism link to air pollution.
USC researchers looked at autistic children and their mothers and exposure to traffic pollution near roadways, finding a two-fold autism risk tied to that pollution.
"It really shows that these researchers found as association between autism and exposure to pollutants, and that's what's captured the headlines," said Dr. Deborah Bilder, head of the Neurobehavior Home Program at the University of Utah. "We know it affects the lungs, the brains, it affects all kinds of birth outcomes."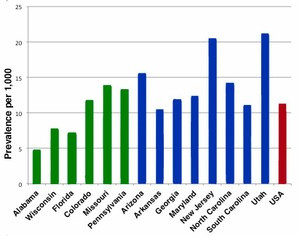 Brian Moench of Physicians for a Healthy Environment is sounding the alarm about the impact of air pollution on health.
"This latest research about autism just adds to the mounting evidence that air pollution affects the functioning of the brain probably almost from the moment of conception," he said.
Bilder said the study should not be treated as a smoking gun, but another avenue that deserves further attention.
"Let's do a more advanced, systematic study that will allow us to truly clarify cause and effect," he said. "Is this truly a cause that we can prevent? Is this really mirroring something that we haven't figured out yet?"
Next up for the researchers who worked on this study is an examination of genes related to autism, to see if some genes makes someone more vulnerable to specific pollutants.
×
Related Stories