Estimated read time: 2-3 minutes
This archived news story is available only for your personal, non-commercial use. Information in the story may be outdated or superseded by additional information. Reading or replaying the story in its archived form does not constitute a republication of the story.
Whit Johnson reportingOne man is dead, another injured in two different accidents in trenches. First, a man working near the VA Hospital died when the trench collapsed and buried him under 8 feet of dirt. Then another accident took place along Bangerter Highway in South Jordan.
Firefighters responding to two separate trench accidents just hours apart made frantic rescue efforts.
Dep. Chief Dan Andrus, with the Salt Lake City Fire Dept., said, "Regardless of who this person was, this is a horrible, horrible event."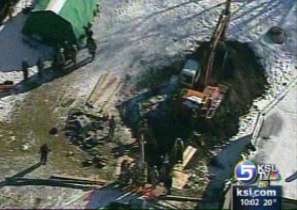 The first happened around 9:40 Tuesday morning at the VA Hospital in Salt Lake City. Forty-six-year-old Ronald Zwart of Ogden was installing new water pipe in a trench about 15 feet deep.
"The side of the trench caved in and buried him completely. He was buried over the top of his head," Andrus said.
Emergency crews used vacuum trucks, but after about 20 minutes of digging, it was too late. The father of four was pronounced dead.
Then Tuesday afternoon, a medical helicopter took another trench worker to the hospital.
Capt. Nathan Morreale, with the South Jordan Fire Dept, said, "When rescuers did arrive on scene, he was able to make voice contact with them."
His work site was at 10400 South and Bangerter Highway. A chain broke and dropped a water pipe on top of him.
"We've put a lot of boards in the trench. We put airbags in there to secure the pipes and also to secure the area," Morreale said.
The 25-year-old man suffered a fractured left arm, multiple cuts and back pain, but luckily the walls along the 12-foot deep trench never came down.
"I think any time you have construction workers going into a trench, it is dangerous; and we hope they can take every precaution that they can to ensure their safety," Morreale said.
Ronald Zwart worked for EBW International. The other man who was injured worked for Spade Excavating. OSHA is investigating both accidents to determine if there were any safety violations.
×
Photos
Related links
Most recent Utah stories