Estimated read time: 3-4 minutes
This archived news story is available only for your personal, non-commercial use. Information in the story may be outdated or superseded by additional information. Reading or replaying the story in its archived form does not constitute a republication of the story.
SALT LAKE CITY — When he heard the woman scream for help, adrenaline kicked in for Alex Elsmore.
The 19-year-old chased after a man who was believed to have just robbed a nearby restaurant at knife point. But if he were put in the same situation again, Elsmore said, he would do things differently.
"It was just not worth it," he said, "completely and utterly not worth it. I almost lost my life trying to stop someone, and he didn't care what happened."
Elsmore is recovering at a local hospital after being stabbed twice and suffering a collapsed lung.
The incident began just after 9 p.m. Friday at El Asadero, 1011 W. North Temple, when a man wearing a mask and a hoodie entered the restaurant and demanded money.
Elsmore, who was outside his home across the street at the time, heard the lone employee scream for help after she ran outside. He said he instinctively started running after the suspect, who was now hopping over fences and running through yards, and tried to head him off.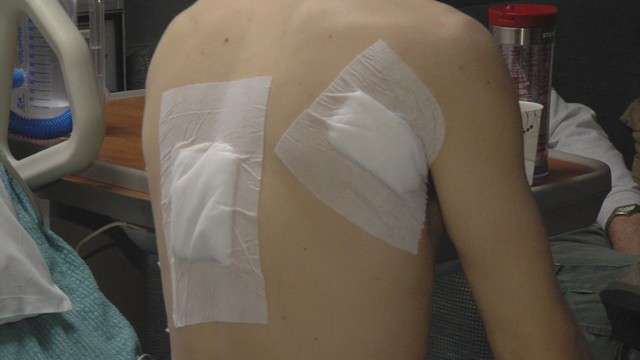 Elsmore said he caught up with the man and a struggle ensued. He said he grabbed the man, but he was able to slip out of his grip.
"I thought he was going to punch me, and I felt the first hit, didn't know what it was, and that was the first stab wound next to my spine," Elsmore said.
At the time, Elsmore didn't realize he'd been stabbed. He then found himself lying on the ground looking up at the alleged robber, who never said a word during the entire confrontation.
"And I see him pull the knife and it's coming down at me, and I roll, and that's when he got me in the back of my shoulder," Elsmore said.
He said he was able to punch the man before he started running again. At that point, Elsmore said, he tried to continue the pursuit but began feeling weak, not realizing he had been stabbed twice.
"I just started screaming, 'Help! Help me! This guy just hit me with something. He might be armed,'" he said. "I had no idea I had been stabbed."
Elsmore said getting stabbed felt like being punched really hard. It wasn't until he put his hand on his shoulder and felt blood that he realized what had happened.
Related:
"And then when I realized I got stabbed, I was like, 'I can't let a person who just stabbed me get away,'" he said. "I couldn't even believe what happened."
Elsmore said his vision got blurry as he continued to chase the man, and it got to the point he couldn't go any farther. That's when Elsmore said he needed help.
A bystander heard his calls for help, and she stayed with him until paramedics arrived.
"If it wasn't for her, I'd be dead," Elsmore said.
The search continued Monday for a white man in his 20s, about 5-foot-6, last seen wearing a gray hoodie with a black mask, according to police. Elsmore, however, said he believes the man was at least 6 feet tall. Anyone with information can call police at 801-799-3000.
Elsmore said his advice for others who may encounter a fleeing suspect is to follow them and call police, but don't engage.
×
Photos
Most recent Utah stories