This archived news story is available only for your personal, non-commercial use. Information in the story may be outdated or superseded by additional information. Reading or replaying the story in its archived form does not constitute a republication of the story.
SALT LAKE CITY — Have you ever walked outside in the snow in cheap suede boots, or in shoes with a tiny hole in the bottom, or even in sandals because hey, this is Utah and the day before it was probably 70 degrees?
If so, you were probably cold and wet and not in the mood for a popsicle, unless it was a pink Otter Pop because those things are the best. That is because you are probably not a Little Boy.
Little Boys like popsicles regardless of the weather, as 5-year-old Caleb could tell you. Steve Hone was so amused by the antics of the boy, he sent us an email with this picture and the story behind it, which we thought we would share.
Caleb woke up early one Saturday morning and decided the frozen water on the ground wasn't good enough — no, the sticks didn't hold it up well and the colors were all wrong (yellow is the universal Least Favorite Flavor After Purple) — so he decided to visit his buddy Steve.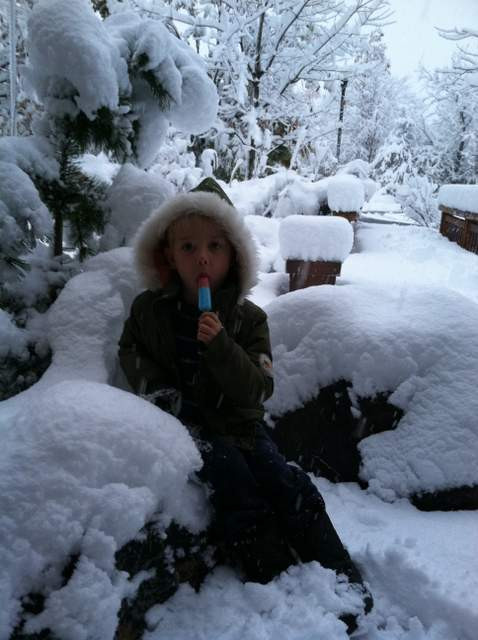 Caleb pulled on his boots, neglecting the socks (socks are for the weak), and got to Steve's house at 7:20 a.m., just in time for what grown-ups like to call Waking Them Up. He rang the bell approximately 100 times, as Little Boys are wont to do.
"I was headed up the stairs to go take a picture of the snow," Hone said. "There he was with his nose pressed up the window, looking at me like 'Let me in.' I was caught. I had to open the door."
Caleb wanted to talk to Grandma Marilyn, who he liked to visit despite her not being his real grandma, probably because even pretend grandmas will spoil you and otherwise make you feel special.
Grandma Marilyn was still asleep, though, and Caleb couldn't talk Steve into waking her up because sometimes grown-ups are big meanies like that.
Steve asked Caleb if he was just "out running around the neighborhood."
"I can't run; I'm stuck in the snow," said the literalist. "I can't get back across the bridge. Can I have a popsicle? Will you go wake Grandma Marilyn up?"
Yes, and no. Caleb ate his popsicle and asked his buddy Steve for help across the bridge, maybe because there was a troll living underneath but probably because of all the snow.
"I carried him through the deep snow and across the bridge in my house slippers," Hone said, "and sent him on his way to the next neighbor's door."
×
Related Links