Estimated read time: 2-3 minutes
This archived news story is available only for your personal, non-commercial use. Information in the story may be outdated or superseded by additional information. Reading or replaying the story in its archived form does not constitute a republication of the story.
SALT LAKE CITY — First thing Monday morning, hairdresser Stuart Stone's clients sign up for appointments. Within minutes, his schedule is full.
For many, Stone is their only hope for a haircut. Mondays, Stuart Stone volunteers his services at the Weigand Homeless Day Center in Salt Lake City. That longstanding appointment began 19 years ago when a boyfriend died of AIDS.
"I had this other friend that was talking to me," Stone recalls. "She said, 'What's going on?' and I said, "Well, my weekends are just too long, you know.'"
The friend suggested he spend a few hours Monday, his day off, cutting hair for the homeless.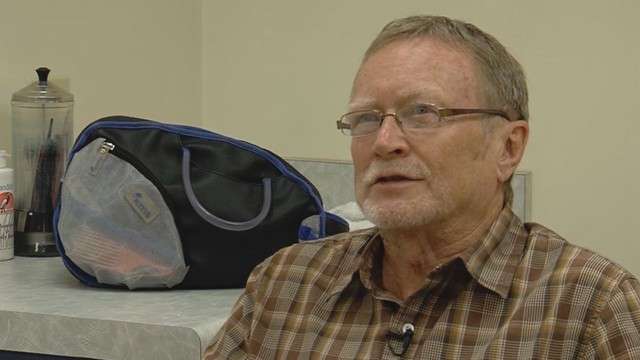 "For many, it's hope," says Jose Lazaro, marketing and development director for Catholic Community Services. "There's light at the end of that tunnel. Because you get a haircut, I can go look for a job, I can go do what I need to do."
Jorge Splascencia wanted a trim so he could go look for work.
"I need to look presentable," he says.
Charity Farber has been spending her nights outside and says her hair is the least of her concerns.
"It's pretty creative," Stone says of her current hairdo. "Did it myself, you know." She says she hasn't had a proper haircut in months.
Stuart says he understands a simple haircut can be transformational.
"It's kind of fun to do the really mangy-looking ones," he says. "And after you get them cut and their beards cut and everything, they turn into a real person. It's amazing."
Related:
"You can almost see the change in their attitude," he says.
Splascencia says Stone's haircut makes him look and feel ten years younger.
"It feels good yeah. I feel already different," Splascencia says.
"I don't think about whether I should or shouldn't," Stone says when reminded he's been volunteering here for 19 years, "It's just something you do. So I do."
One man with dark, deep-set eyes and an emotionless expression, sits down in Stone's barber chair. As the haircut ends, his eyes light up. "Well, I'm happy," he laughs.
"You're a new man now," Stone says.
"Yes, I am," the man replies. "Walk with pride now."
×
Photos
Related stories
Most recent Utah stories