Estimated read time: 4-5 minutes
This archived news story is available only for your personal, non-commercial use. Information in the story may be outdated or superseded by additional information. Reading or replaying the story in its archived form does not constitute a republication of the story.
PROVO, Utah (AP) - BYU might have found its next great scorer in the Jimmer Fredette mold.
Tyler Haws scored a career-high 32 points and made several key baskets down the stretch as the Cougars held on for an 87-75 victory over Cal State Northridge on Saturday night. For Haws, it was his sixth straight game scoring at least 20 points. The sophomore guard is only the second BYU player, after Devin Durrant, to open a season in such a fashion.
#box
"It's probably an understatement, by Ty's a winner and he's always been a winner," BYU coach Dave Rose said. "He's extremely confident in his ability to make plays. What I'm really happy about is our team is beginning to understand and trust his ability to make big plays for us."
Brock Zylstra added 14 points and five assists and Brandon Davies chipped in 12 points and eight rebounds for the Cougars (5-2) as they handed the Matadors (6-1) their first loss of the season.
Stephan Hicks led Northridge with 25 points and eight rebounds. Stephen Maxwell added 17 points and Josh Greene had 13.
Haws, who returned from a two-year LDS mission before the season, has quickly emerged as BYU's scoring machine. Through six games, he is averaging 23.3 points and seems to just be scratching the surface of his offensive potential.
The only thing that matters to Haws is that his team is back on a winning track.
"I'm more happy we got the win," Haws said. "It feels great to play in an environment like that and be able to win. I feel like our team is on a roll right now and I like where we're at."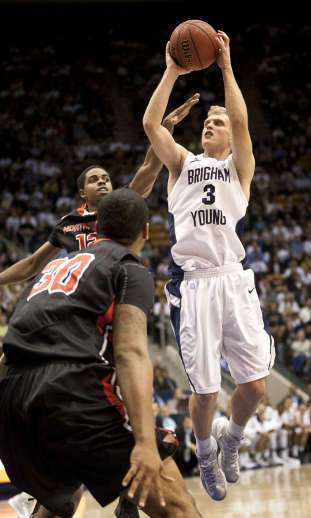 The Cougars played with Jabari Parker, one of the nation's top high school recruits, in attendance. Parker made an official visit to the BYU campus on Saturday and the Cougars are one of five teams the Chicago native is considering playing for in 2013. Other schools Parker is considering are Duke, Stanford, Florida and Michigan State.
BYU fans spared no effort to implore Parker to choose the Cougars. Thousands of fans wore white "Chicago to Provo" T-shirts. Students chanted his name during second-half timeouts and displayed multiple posters offering creative reasons why Parker is a good fit for BYU.
The Cougars could have used his help at times on Saturday night.
BYU struggled to separate itself from the Matadors in the second half even after making a huge run to open up a double-digit lead.
After Northridge scored the first six points of the half to tie it at 46-46, BYU responded with a 7-0 run - capped by a Haws 3-pointer - to retake the lead. The Cougars eventually pushed it to double digits, going up 66-55 on a putback from Nate Austin with 9:47 left.
Northridge clawed back into the game with a 19-7 run over the next 5½ minutes. The Matadors kept chipping away and finally took a 74-73 lead on a Hicks layup with 4:01 remaining.
Haws swung the momentum back to BYU for good when he answered with a jumper on the other end. It touched off a 12-0 run - culminating in back-to-back layups by Haws and Zylstra - that gave BYU an 85-74 lead with 37.2 seconds left.
"In those situations you just have to remain calm and realize there's lots of possessions left in the game," Haws said. "We wanted to get stops and keep pushing the ball and keep attacking them. We were able to do that."
Northridge attacked the paint throughout the first half to keep pace with BYU. Brandon Perry made a pair of free throws and scored a putback layup to put the Matadors ahead 14-10 early in the half.
Northridge kept that four-point cushion for several minutes because of timely baskets from Stephen Maxwell. He made all four shots he took in the half and his last basket - a layup with 6:37 left before halftime - gave the Matadors a 30-26 lead.
BYU rallied by getting to the free-throw line. The Cougars went on a 17-4 run to take a 43-34 lead with 1:58 remaining before halftime and it mostly came from free throws. Zylstra hit three free throws to tie the game and the Cougars made seven more over nearly four minutes to pull ahead of the Matadors.
In the second half, the Cougars did a better job of clogging lanes to the basket and making it tougher for Northridge to get clean looks.
"I thought we did a much better job late in the game of controlling their basket penetration," Rose said. "They were just taking that thing between defenders and allowing our post guys to clean up the mess. I thought our guards did a much better job of closing that space down late in the game."
(Copyright 2012 The Associated Press. All rights reserved. This material may not be published, broadcast, rewritten or redistributed.)
×
Related links
Most recent Sports stories