Estimated read time: 4-5 minutes
This archived news story is available only for your personal, non-commercial use. Information in the story may be outdated or superseded by additional information. Reading or replaying the story in its archived form does not constitute a republication of the story.
SALT LAKE CITY — Jarred DuBois was a playmaker on all ends of the floor Friday night to help the Runnin' Utes beat up on the Central Michigan Chippewas, 67-51.
The senior guard scored 20 points with five rebounds and five assists with no turnovers to lead Utah, playing great defense as well.
"I think as a unit, we brought good energy and remained confident," DuBois said. "I think the second part to that was also important to my game as well. I had to be confident but not force anything. I know I just have to go out there and compete every second I'm on the floor."
#box
"(DuBois) has a real nice feel to his game and he knows when to attack the interior of the defense," said Utah head coach Larry Krystkowiak. "He is a very good passer for his position and that is beneficial when you combine that with his knack to get in the lane. If he draws contact, I feel comfortable with him at the free-throw line. On the other end, I think that's as good defensively as we've seen him play this year."
As a team, the Utes limited Central Michigan to under 30 percent shooting.
"This was the best game we have played this season and it all started on the defensive end," Krystkowiak said. "I thought we were able to keep pace with their tempo since they were active with their substitution patterns. Another key to our play tonight was the ability to get back in transition after a missed shot."
"I thought we were really good defensively tonight," DuBois said. "We rebounded well and we held them to a low shooting percentage."
Junior guard Glen Dean scored 13 points for Utah on 5-of-7 from the field. Dean is the only Ute to post double-digit scoring outings in each of Utah's four games so far this season.
DuBois and Dean have developed a solid chemistry to form a successful Utah starting backcourt.
"I felt Glen and Jarred played very well together and meshed with one another in the backcourt better than we have seen so far," Kyrstkowiak said.
"It's good to have him back there with me," DuBois said of Dean. "To know that we are both quality guards and can handle crunch-time situations, it eases the pressure. We both go out there and try and embrace the moment. We are learning how to work with one another and I think the results so far have been positive."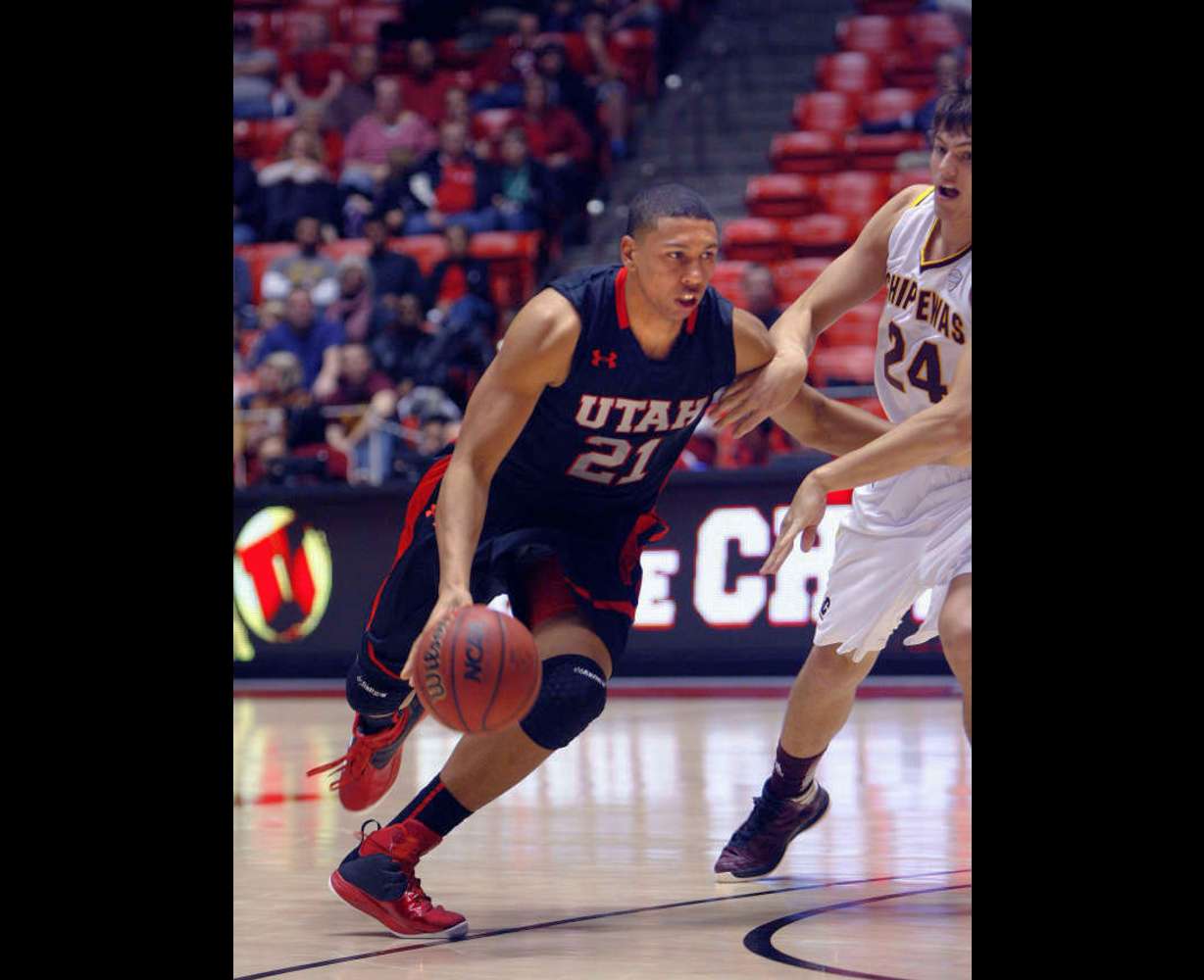 Sophomore center Dallin Bachynski followed up his big night against Idaho State with an 8-point, 6-rebound outing against the Chippewas. Freshman forward Jordan Loveridge added eight points with a game-high nine boards.
A 17-2 first-half run gave the Utes a 20-8 lead, holding Central Michigan for over 12 minutes without making a field goal.
Utah dominated the paint, outscoring CMU by the margin of 32-16, including 22-2 in the first half. As a result, more than half of CMU's field goal attempts were from beyond the arc, where it hit on just 25.8 percent.
Derrick Richardson was the only Chippewa to score in double figures, finishing with 10 points. Central Michigan's leading scorer coming into the game, senior guard Kyle Randall, went just 1-for-11 for four points with five boards.
The Utes improve to 3-1 on the season, with one more match-up remaining in the Huntsman Center Thanksgiving tournament. Last year, Utah had lost eight times before achieving its third win.
"It was a top shelf effort tonight combining the mental and physical aspects of the game," Krystkowiak said. "We had some breakdowns that we will need to clean up but overall, I was very impressed with the performance this evening."
Utah will play Wright State (4-1) Saturday night to close out the tournament. The Raiders suffered a 4-point loss to Central Michigan on Wednesday before taking down Idaho State, 60-55, on Friday night.
Miles Dixon led Wright State over Idaho State with 16 points on 7-of-13 shooting. Fellow junior guard Matt Vest added 11, with four rebounds.
Central Michigan will take on Idaho State Saturday at 4:30 p.m. The Utes and Raiders will then conclude the tournament, tipping off at 7:30 p.m.
Tyson Maddy has covered the University of Utah football and men's basketball teams as a contributing writer for KSL.com Sports since 2011.
×
Related links
Related stories
Most recent Sports stories