Estimated read time: 3-4 minutes
This archived news story is available only for your personal, non-commercial use. Information in the story may be outdated or superseded by additional information. Reading or replaying the story in its archived form does not constitute a republication of the story.
SALT LAKE CITY — Dallin Bachynski made his first start as a Runnin' Ute Wednesday night when Utah took on Idaho State. And judging by the result, it will likely be the first of many.
The sophomore center produced game and career highs with 22 points and 16 rebounds, leading Utah to a 57-46 victory over ISU. The Bengals had difficulty finding an answer for Bachynski for most of the night, as he went on to finish 9-of-15 from the field and 4-of-5 from the free throw line.
#box
"I'm just glad I was able to help my team win," Bachynski said. "My guards were able to get me the ball, and that was huge because without them, I wouldn't have done anything tonight."
"Dallin's a force inside to be reckoned with," said Utah head coach Larry Krystkowiak. " He gave us a great lift on both sides of the ball. He's got a bright future, I think, as do a lot of the guys on this squad."
"He did a really good job tonight," junior guard Glen Dean said of Bachynski. "With just bringing energy, getting those 50-50 balls and rebounds that we didn't get last game (against Sacramento State), and getting us extra possessions. He brought an inside presence that we needed tonight, it opened the game up for the rest of us."
A 32-7 second half run gave Utah its largest lead of the night, 54-38, with under seven minutes remaining.
At that point, however, the Utes' ball movement went stagnant and shooting went cold — they didn't score a field goal in the final 6:26 of regulation. In the end, it was their defensive effort that allowed them to hang on for the 57-46 win.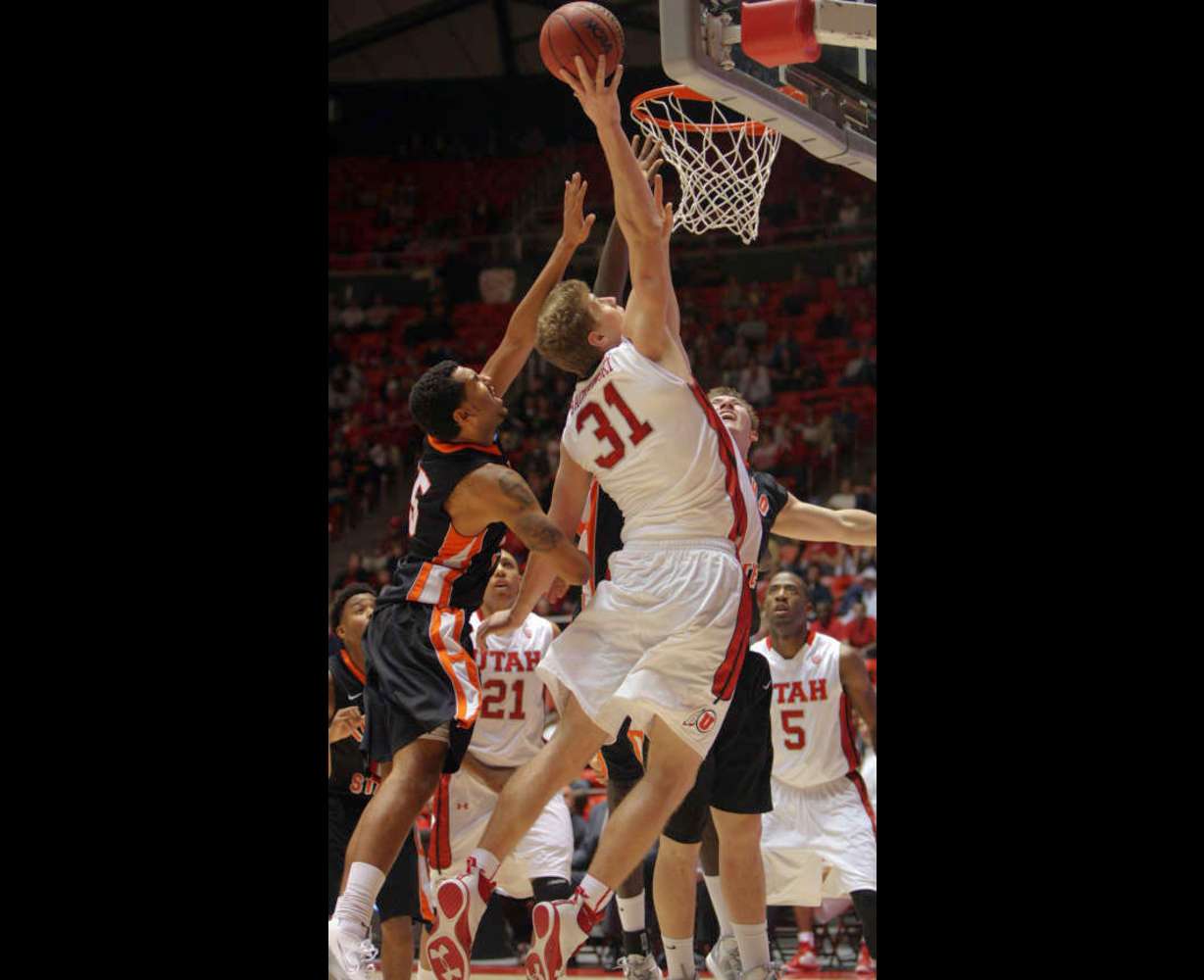 Utah trailed by as many as nine points early in the second half, just before its surge. The first half ended with a 12-2 Bengal run, which put ISU ahead 29-22 at the break.
"It was not pretty at all," Krystkowiak said of his team's first half play. "The term that comes to mind is 'growing pains.' We missed three or four layups in the first half and the life is out of the building, and Idaho State did a great job of slowing things down."
Freshman forward Jordan Loveridge and Dean represented Utah's leading scorers in its first and second regular season games, respectively, but each went 0-for-4 in the first half.
Both bounced back with solid second halves, however. Dean scored 11 points while Loveridge accounted for seven, along with 12 boards and four assists.
"It was a really big 20 minutes for us," Dean said of the Utes' second half improvements. "It just showed the character of our team, that we're not going to give up and that we're going to keep fighting. We came out of half time with that mentality, 'let's get after it.'"
Idaho State recorded just a single double-digit scorer in Melvin Morgan. The senior guard scored 15 points with six rebounds and three assists. The Bengals are still yet to win a game this season, and will face Wright State in their next game of the Huntsman Center Thanksgiving tournament.
Utah, meanwhile, improves to 2-1 and will now play Central Michigan Friday at 5 p.m.
Central Michigan (2-1) defeated Wright State (3-1) in the first game of the tournament, edging out a 59-55 win.
The Chippewas of CMU presented a very balanced attack to take down the Raiders, finishing with seven players scoring six or more points. Senior guard Kyle Randall led the way with 13 points and six assists.
The Thanksgiving tournament will then wrap up on Saturday with Idaho State facing Central Michigan, before Utah takes on Wright State.
Tyson Maddy has covered the University of Utah football and men's basketball teams as a contributing writer for KSL.com Sports since 2011.
×
Related links
Related stories
Most recent Sports stories