Estimated read time: 3-4 minutes
This archived news story is available only for your personal, non-commercial use. Information in the story may be outdated or superseded by additional information. Reading or replaying the story in its archived form does not constitute a republication of the story.
SALT LAKE CITY — Utah researchers may be closer to understanding the mechanism of a migraine.
With an eerie almost shadowy wave that moves across the brain, University of Utah neuroscientists have now imaged what happens during an aura, an early visual symptom of this painful disorder.
Tonya Edvalson has suffered migraine since she was 16 years old. The worst lasted more than two weeks. Before it ended, she had to go to a local hospital E.R. for emergency treatment.
Though she has fewer episodes now, dropping from 15 to two a month, they're still disabling and extremely painful.
"It's like a ball in your head that is just pulsating and it sort of moves — for me — from the front to the back of my head and then rotates back and forth," Edvalson said. "I will sit on the floor and my husband will sit on the couch and I will have him push as hard as he can on my head to counteract some of that pain."
Before the migraine hits full force many victims experience what is called an aura, a visual perception of translucent, weird colors that migrate across or around the eye.
Symptoms of complex migraines
Intense headache accompanied by
Weakness
Loss of vision
Difficulty speaking
"I see yellow spots or yellow bars that will show up and there will be several of them. They'll sort of pop up and move around on me," Edvalson said.
According to U. of U. neuroscientist Dr. K.C. Brennan, the aura does not change your vision, but "your brain is causing you to think there is something in your visual field."
Brennan and his colleagues have now induced and imaged what happens inside the brain during these auras. As we watched the images on a screen, a translucent shadow, almost like what we experience when a cloud covers the sun, passes through the sensory cortex. That's the part of the brain which is also associated with learning.
"Nerve cells are firing rapidly and there's some big changes in blood flow," Brennan said.
Since the brain is a learning machine, Brennan theorizes these episodes may be teaching the brain how to create non-injury dysfunctional pain.
"I see it as something I would call malignant learning," Brennan said.
In addition to the auras, victims of migraine can feel numbness or a tingling sensation that will move up the arm or into the face. The episodes can be subtle or intense and sometimes will affect speech.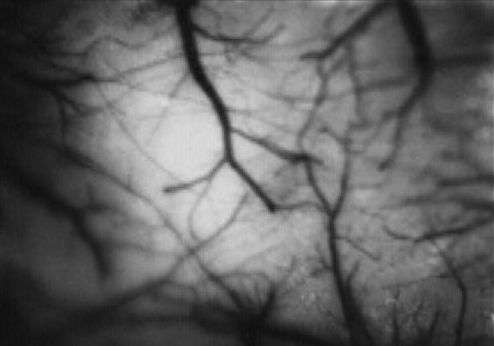 "We saw this during the Grammy Awards a few years back," Brennan notes. "The on-air reporter lost her ability to speak — to find words."
In this dysfunctional learning, "the brain can also learn how to create pain. It remembers how to do it and it often gets better with each episode at generating pain," he said.
U. scientists believe understanding what happens during this early stage aura may open a pathway that could lead to a new treatment of migraine. "It is, as far as we know, one of the first events in migraine," Brennan said.
And even though not all victims experience an aura, "if researchers can understand the mechanism or what triggers this early symptom, perhaps we can head it off at the pass and prevent the whole rest of the migraine cycle,"he said.
If so, that would certainly be welcome news for people like Edvalson and more than 10 percent of the world's population that suffers from migraine.
Brennan believes research now is essential since more troops returning from Afghanistan are suffering from migraine-like chronic headaches, most likely triggered by combat stress.
×
Photos
Related stories
Most recent Utah stories