Estimated read time: 2-3 minutes
This archived news story is available only for your personal, non-commercial use. Information in the story may be outdated or superseded by additional information. Reading or replaying the story in its archived form does not constitute a republication of the story.
SALT LAKE CITY — Members of a local church spent their holiday making sure hungry kids thousands of miles away have food to eat too.
"Thanksgiving means, to me, a time to spend with family," said Tanner Gulledge, a 10-year-old volunteer.
Thursday, Tanner's family gathered at K2 the Church to help in the effort. Part of it was converted into a warehouse, full of food.
Working with his mother, grandmother, and a few other relatives, Tanner filled plastic bags.
"I have been doing the chicken powder, the veggies, and packing the food," he said.
All of it will go to help kids he's never met, 10,000 miles away.
"They don't really have food, so I'm glad that we can get them some," Tanner said.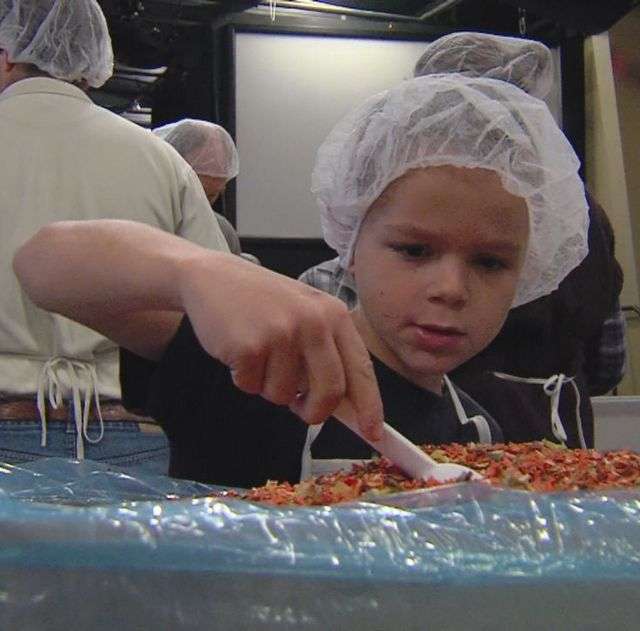 Members of Tanner's congregation spent the morning packing food that will be shipped to the African country of Swaziland. It's a place that's been ravaged by AIDS.
"So many adults have died, so many have perished, that there's just thousands and thousands of orphans," said Dave Elshaug, executive pastor of K2 the Church.
More than 200 volunteers packed 45,000 meals Thursday, one-third of what will ultimately be sent to Swaziland.
The church has sent food to other third-world countries too. Some know first hand how far the meals go.
Melodie Anderson, for example, said in the Philippines children walked 10 miles for a bowl of food.
"And they bring anything they can — a tin can, a milk carton, anything they can to get that one little bowl of food," she said. "For a lot of those kids, that bowl of food is what they're going to have for three or four days."
Tanner's grandmother, Terri Gulledge, who is visiting from California, said for her Thanksgiving is all about sharing.
"We have so much here and we don't really stop and think sometimes how little others have," she said.
As she and her family give thanks for what they have, they remember those who aren't as fortunate.
"I think the kids in Africa should have a decent Thanksgiving too," Terri Gulledge said.
K2 the Church buys the food from the organization Kids Against Hunger and usually spend the last Saturday of each month packing it up.
Organizers said anyone who would like to volunteer is welcome to help.
×
Photos
Related links
Related stories