Estimated read time: 3-4 minutes
This archived news story is available only for your personal, non-commercial use. Information in the story may be outdated or superseded by additional information. Reading or replaying the story in its archived form does not constitute a republication of the story.
Arizona's fourth-quarter rally ended Utah's late-season surge for bowl eligibility. The 34-24 defeat handed the Utes a 4-7 record, guaranteeing they'll be home for the holidays. Turn out the lights, there's always next year for Utah.
But wait — not so fast. Could it be possible for Utah to still play in a bowl game if it beats Colorado and finishes with a 5-7 record? John Marshall of the Associated Press submits that it is indeed a reasonable possibility.
Marshall: "If there aren't enough eligible teams to fill the 35 bowls, teams with the highest APRs will be placed in a group for bowls with open slots to negotiate with. Utah has an APR of 33 and, with a win over the Buffs, could be in the running for a bowl with schools like Rice, Wake Forest and Missouri."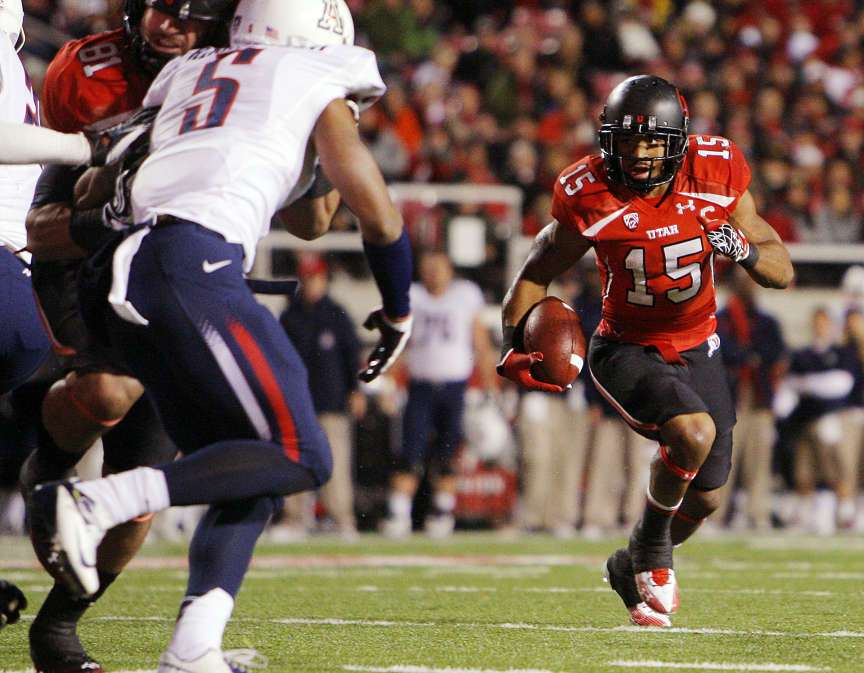 APR, or Academic Progress Report, would be used to determine which teams with a 5-7 record may be chosen for any bowls that remain unfilled if there are not enough 6-6 teams at the season's end. A win over Colorado in the season finale would give Utah a moderate chance at landing a bid that would continue its bowl streak.
If the surprising scenario shines its face on the Utes, it would give the Pac-12 nine teams for the college football bowl season. Just two years ago, the conference (then the Pac-10) couldn't even fill all of its bowl responsibilities, sending just four teams to bowls.
The increase in bowl berths is a testament of an improving conference. According to ESPN Stats & Info, the Pac-12 has risen to the No. 2 spot in its conference power rankings, only behind the SEC.
But the conference improvement comes at a cost to league newcomers such as Utah. As a consequence of the Pac-12's upswing, the Utes' strength of schedule ranks top 10 in the nation, according to USA Today's Jeff Sagarin ratings.
Utah currently ranks No. 9 in both CBS Sports' and ESPN's Pac-12 power rankings — the same position it's hovered in for each of the past four weeks.
Fortunately for the Utes, help could be on the way. Utah has signed two 3-star running backs to add to what James Gomez of Rant Sports calls a "deep 2013 class."
And with that, we hit the Utah national roundup home stretch:
— Running back John White still has plenty to run for Friday against Colorado, aside from the bowl prospect. If he gains 127 yards on the ground, he will become the first Ute in school history to eclipse the 1,000-yard rushing mark in back-to-back seasons, as reported by Dirk Facer of the Deseret News.
— Nine Utes made the Pac-12 All-Academic First or Second Team; five more received honorable mentions.
— ESPN's Ted Miller takes a quick look at the Week 13 Pac-12 action.
— And the Utes' 2013 nonconference schedule has been announced. Spoiler: they won't leave the state.
Tyson Maddy has covered University of Utah athletics as a contributing writer for KSL.com Sports since 2011.
×
Related Stories