Estimated read time: 2-3 minutes
This archived news story is available only for your personal, non-commercial use. Information in the story may be outdated or superseded by additional information. Reading or replaying the story in its archived form does not constitute a republication of the story.
SALT LAKE CITY — Utah has received a "B" grade for its preterm birth rate in 2012, according to a new report by the March of Dimes, a nonprofit organization focused on promoting the health of mothers and babies.
The grade was given based on the state's distance from the March of Dimes' 2020 goal of no higher than a 9.6-percent preterm birth rate nationwide.
Utah's 10.9-percent rate held steady for the second year in a row and was slightly decreased from the 2006 rate of 11.5 percent. In the five years since, the rate has remained at about 11 percent.
A typical pregnancy should last 40 weeks, with doctors recommending women carry children to at least 39 weeks to ensure proper development of vital organs. Babies born before 37 weeks are considered preterm.
One factor the organization named as contributing to Utah's rate is the number of uninsured women in the state, which rose from 16.9 percent to 18.7 percent among women ages 15 to 44. The report also urges the officials to focus on lowering the state's 10.8-percent rate of women who smoke at some point during pregnancy. Across the U.S., that number is 23 percent.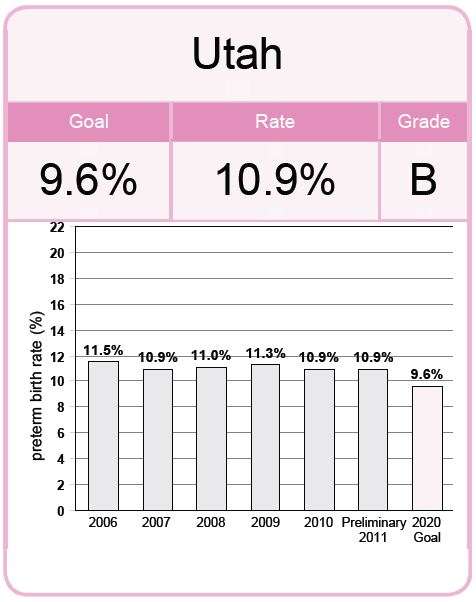 Utah has made an improvement in one important area over the past year, according to the report: the percentage of babies born late preterm — up to six weeks early — fell from 8.7 percent in 2010 to 8.2 percent in 2011.
Utah's rate of preterm births is slightly lower than the U.S.' 11.7 percent rate, but remains higher than that of most developed areas. By contrast, preterm birth rates in Germany and the United Kingdom are 9.2 percent and 7.8 percent, respectively.
A report released last week by an international coalition found that current medical knowledge and procedures leave very little room for improvement in the rate, leading the coalition to push for a scientific focus on intervention.
"I don't think it's hopeless at all," said report co-author Dr. Catherine Spong, a maternal-fetal medicine specialist at NIH.
Preterm death is the leading cause of newborn death in the U.S., accounting for about 25 percent of newborn deaths every year. The causes of premature death are not clearly understood, but women who have had a previous premature birth, women who are pregnant with twins or more and women with certain health issues are thought to be at higher risk.
×
Related links
Related stories
Most recent Utah stories