Estimated read time: 2-3 minutes
This archived news story is available only for your personal, non-commercial use. Information in the story may be outdated or superseded by additional information. Reading or replaying the story in its archived form does not constitute a republication of the story.
Photo: Swedish Crown Princess Victoria, right, talks to US laureate Mario R. Capecchi, left, at the Nobel banquet at the Town Hall, Stockholm, Sweden, Monday, Dec. 10, 2007. (AP photo/Scanpix Sweden/Henrik Montgomery)John Hollenhorst reporting
This was also a very big day in Scandinavia for a scientist from Utah. At a ceremony in Stockholm, Sweden, Dr. Mario Capecchi was awarded the Nobel Prize in Medicine.
The royalty of science rubbed shoulders with real royalty today as King Carl Gustav of Sweden presented 10 Nobels in medicine, physics and chemistry. The event was broadcast on European television.
"It's a wonderful ceremony, very majestic, and it's a thrill," Capecchi said.
The splendid ceremonies were a long way from the poverty of World War II Italy. That's where Capecchi was as a little boy, separated from his parents and living on the streets. It's a story that will now become part of the lore of the Nobel Prizes. His mother brought him to America where he excelled, eventually at the University of Utah.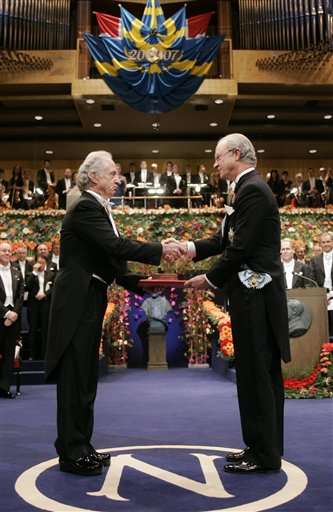 "Well, I could not be more happy or more proud. Having known Mario since he was a graduate student, having watched his growth from being a graduate student to getting a Nobel Prize has just been a remarkable feat, one that many of us have gotten vicarious pleasure from," explained professor Ray Gesteland, vice president for research at the University of Utah.
Capecchi's breakthrough work in gene manipulation is already helping scientists worldwide as they uncover the genetic secrets of many diseases. "He really thinks about big issues and big questions and quietly goes about trying to solve those big questions," Gesteland said.
Capecchi has announced no plans for retirement, and people at the University of Utah say they just can't imagine him giving up his work.
"I don't think I was nervous. This is a very relaxed atmosphere and festivity, so there's nothing to be nervous about," Capecchi said.
"I'm very proud of him. He's a steady worker and he's worked a long time to be here, so very proud," Capecchi's daughter Misha said.
That pride is shared back home, where the Nobel Prize has given Utah and the University of Utah heightened visibility in genetics research.
Capecchi shares his Nobel Prize in Medicine with Oliver Smithies of the University of North Carolina and Sir Martin Evans of Britain.
×
Related links
Most recent Utah stories