Estimated read time: 3-4 minutes
This archived news story is available only for your personal, non-commercial use. Information in the story may be outdated or superseded by additional information. Reading or replaying the story in its archived form does not constitute a republication of the story.
SALT LAKE CITY — Nearly two weeks after the presidential election, Mitt Romney seems to have disappeared — and it's all a part of the new GOP strategy, pundits are claiming.
Romney, a candidate who did not have deep roots within the traditional Republican party to begin with and whose inner circle consisted largely of people who were loyal to him, not to the party, has been easy to wipe away because he gained popularity within the GOP by focusing on his electability, according to BuzzFeed. Now that he hasn't been elected, the party is able to focus on other things.
The last straw, some say, was Romney's post-election remark that Pres. Barack Obama had bought the votes of young people and minorities with "gifts."
"You don't start to like people by insulting them and saying their votes were bought. We are an aspirational party," said Louisiana Gov. Bobby Jindal, according to the Associated Press.
Jindal is among those in the GOP who say the party needs to distance itself from extreme actions like those of GOP Senate candidates from Missouri and Indiana who lost their races after making controversial comments about rape.
The losses in an election that was supposed to give Republicans a majority has led the party to take steps to prevent another round of controversy and loss come the 2014 midterm elections, Politico reports.
#poll
The steps include picking a candidate and supporting the candidate beginning in the primaries, instead of leaving the primaries to be a free-for-all and supporting the winner.
"Democrats are trying to get a certain kind of Republican nominated; they're trying to position themselves so they can run against a Republican in the general and win," said Nebraska Sen. Mike Johanns.
Sen. Lindsey Graham, R-S.C., said Sunday on NBC's "Meet the Press" that the GOP has to soften its rhetoric toward minorities if it is going to succeed. He said the GOP is in "a death spiral with Hispanic voters because of rhetoric around immigration."
"We're in a big hole. We're not getting out of it by comments like that," Graham said in reference to Romney's "gifts" remarks. "When you're in a hole, stop digging. He keeps digging."
Other political news
Pres. Obama's favorability rating is at its highest in three years at 58 percent, according to a new Gallup poll. The Democratic Party's favorability rating rose from 45 percent to 51 percent following the general election.
Republican Congressman Allen West refused Monday to concede defeat in the House election, despite trailing further behind his opponent after the recount than before. Democrat Patrick Murphy has claimed victory, but West's campaign insists he is still in the game, according to the Washington Post.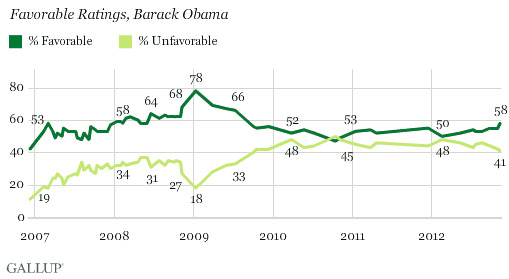 ×
Related links
Related stories