Estimated read time: 2-3 minutes
This archived news story is available only for your personal, non-commercial use. Information in the story may be outdated or superseded by additional information. Reading or replaying the story in its archived form does not constitute a republication of the story.
Whit Johnson reportingThe weekend storm is still having an effect on hundreds of people who are without power. Most of the outages are scattered throughout the Salt Lake Valley.
Many of the people we spoke to today are on their second day without power. Rocky Mountain Power says it's doing everything it can, but the repairs that are left to be done could take some time.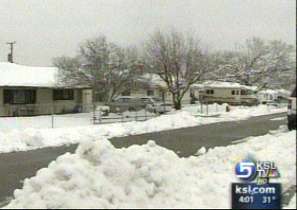 From portable generators to an open fire, people in a Kearns neighborhood are doing whatever it takes to stay warm.
Teri Taylor said, "We've got our generator hooked up to our furnace and the TV."
Nelda Evans said, "We've survived with the heat source of the kitchen range."
At noon today Rocky Mountain Power reported about 3,000 customers without electricity. For most it was an inconvenience, but for Nelda and Orville Evans it's a much more serious problem. Orville must be on oxygen 24 hours a day, which requires electricity. He suffers from congestive heart failure. Luckily, he has a few extra portable tanks.
"Anxiety, it gives you a little extra anxiety. It makes you wonder what it would really be like if it was a really long time," Orville said.
David Eskelsen, with Rocky Mountain Power, said, "The storm really targeted the Salt Lake Valley. That's where the bulk of our outages occurred."
Rocky Mountain Power says this storm has created numerous complications. Wet, heavy snow caused tree limbs to lean or fall on power lines and moisture is to blame for insulator failures.
"We know it's frustrating for customers, but this stage is more time-consuming than earlier parts of the outage, where if you fix a problem at a substation, you can bring three or four thousand customers back on at a time," Eskelsen said.
So in the meantime, those without power just hope more food doesn't spoil and their methods for survival hold up as they wait for the lights to come back on.
Rocky Mountain Power says it's bringing extra crews into the Salt Lake Valley. It hopes to have all the power back on sometime tonight.
There are still about 900 homes without power, down from an estimated 4,500 last night.
×
Most recent Utah stories