Estimated read time: 3-4 minutes
This archived news story is available only for your personal, non-commercial use. Information in the story may be outdated or superseded by additional information. Reading or replaying the story in its archived form does not constitute a republication of the story.
SALT LAKE CITY — Truck driver Mike Clements spends his weekdays hauling potatoes and onions and other cargo to Idaho and back, but he devotes his free time to something not quite so down-to-earth.
It began with Venus.
When he was a kid, Clements saw the "morning star" and discovered it was a planet. He found out how, with a telescope, you could see it go through phases just like the moon.
"I was hooked," Clements recalled. "I guess it was the feeling you could go beyond just where you were standing on Earth."
His parents began buying him department store telescopes, and as he grew older the telescopes grew in size until he got one big enough to earn him a nickname: 1-meter Mike.
---
Seeing (outer space), live, so to speak, that's my thrill.
–Mike Clements
---
It was a reflector telescope that had a mirror with a diameter of about 1 meter. The mirror was produced by Clements' friend Steve Dodds, who has a business coating telescope mirrors.
For an amateur astronomer, 1 meter is huge. But Clements carted his telescope around in the back of a pickup truck. He took it to rest stops and national parks and showed people the night skies.
By that time, Clements had developed a condition that afflicts many astronomers: aperture fever.
"That's a fatal disease where you start out with a small telescope, and you see something bigger, and so you say 'I've got to have a bigger one,'" Dodds explained. "There's no end to it."
Maybe not fatal, but usually incurable.
Clements sold the telescope to finance a bigger one, but that project fell through. Then one day, Dodds called.
"I said, 'Mike, I've got a 70-inch telescope. It's completed and ready to go," Dodds said.
And what was Mike's response?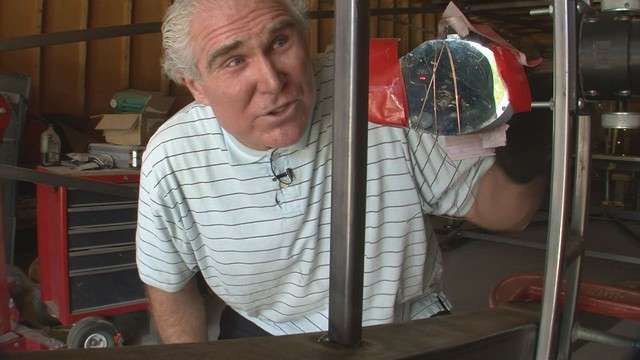 "He screamed," Dodds said.
A 70-inch mirror is truly astronomical, "too big" according to Dodds. A telescope with a primary mirror of that size would be the largest amateur telescope in the world.
A California organization called Group 70 has been trying since the late 1980s to build a 70-inch telescope. But according to the company's website, they ran out of funds.
Clements can thank the Cold War for his mirror. A company called Itek made it for a government spy satellite.
"I guess (it was) to read license plates in Russia," Clements said.
Itek manufactured optical equipment for the CIA's top secret Corona satellite program. The KH, or "Key Hole," satellites would take photos of the Communist world. Early in the program, the exposed film would be literally dropped back to Earth to be retrieved in mid-air by a passing plane.
The mirror, a precursor to the one in the Hubble Space Telescope, has a chip in one edge, which is not good for critical reconnaissance. But Clements and Dodds say the flaw is perfectly acceptable for star gazing.
Clements bought the mirror, but it took him a few years to save up enough money to build the actual telescope. This summer, he began construction in Dodd's garage.
Related:
"Every dime he makes goes into the telescope project," Dodds said.
Welding steel beams into a "portable" structure the size of a small school bus, Clements works without blueprints.
"I bought him a CAD program," Dodds said. "He's never used it once. No, he just thinks this stuff up at night, comes in the next morning and does it."
Clements did make a model of the telescope out of popsicle sticks.
Although the mirror has been ground and polished, it still needs its reflective coating. Clements, with Dodds' help, plans to do this with a special metallic liquid and an automotive spray gun.
When finished, Clements plans to park the giant telescope on land he purchased in central Utah, and then do something few professional astronomers do with such a large instrument: look through it.
"(Professional) Astronomers don't look through telescopes," Dodds said, explaining that telescopes of this size are designed for cameras, not the naked eye.
"Seeing it first-hand, live, so to speak, that's my thrill," Clements said.
So, it looks like Mike Clements is going to need a new nickname: 1.8-meter Mike? (70 inches equals one-point-eight meters.)
"I don't know that that has quite the ring to it," Clements said.
×
Photos
Related stories
Most recent Utah stories