Estimated read time: 5-6 minutes
This archived news story is available only for your personal, non-commercial use. Information in the story may be outdated or superseded by additional information. Reading or replaying the story in its archived form does not constitute a republication of the story.
SALT LAKE CITY — Jordan got its revenge last week against Lone Peak. Now the Beetdiggers are hoping for more.
The top ranked Beetdiggers defeated Lone Peak 35-14 in the semifinals after falling to the Knights in the semifinals the previous year. It was another dominant performance by the state's No. 1 team.
"They've done everything to work for this and earn this," says head coach Eric Kjar. "It's a really hard working group of kids and I'm just proud of them. They've got to take one more step."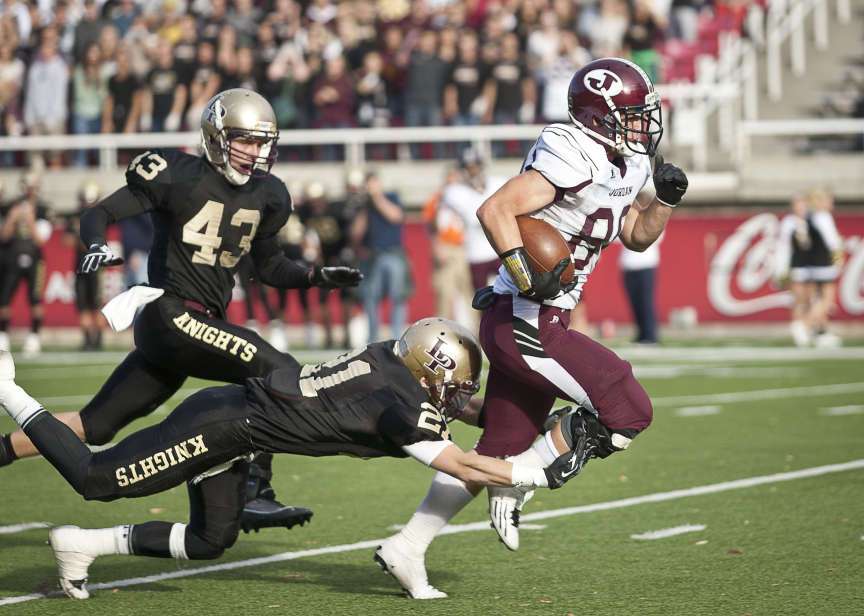 That next step is winning a state championship. They haven't played in a state championship since 1998 and haven't won a title since 1994. Jordan will be the favorites to win their first title in 18 years on Friday. Quarterback Austin Kafentzis has led the way through the air and on the ground. He has rushed for 1,647 yards and 20 touchdowns while completing 654 percent of his passes for 2,623 yards and 28 touchdowns. Austin will lead the Beetdiggers into a state championship game as a sophomore.
"I'm way happy but I couldn't have done it by myself though," says Kafentzis. "I'm getting interviewed now but all these guys are the ones that should get all the credit."
He is referring to his offensive line which may be the best in the state. They have fueled the high powered Jordan offense by opening big holes in the run game and providing terrific protection in the pass game. Jordan has averaged 47 points per game this season and their average margin of victory against Utah teams is 30 points per game.
"It's nice to have that one final game to show the state what Jordan's got," says senior captain BJ Cavendar. "I know this is a special team. I've felt it since the beginning of the season."
Taking that final step won't be easy. Just ask Bingham. Syracuse was counted out by many after losing starting quarterback Brock Anderson with an Achilles injury. They were also missing three other key starters in their semifinal matchup with Bingham but it didn't keep them from reaching their goals.
"Unbelievable. I've never seen a group of kids with the resiliency that they've had," says Syracuse head coach Russ Jones.
After falling short in overtime in the 2011 semifinals the Titans were determined not to fall short this time around. Several players stepped in and stepped up helping Syracuse hold on for a 21-16 win over the Miners.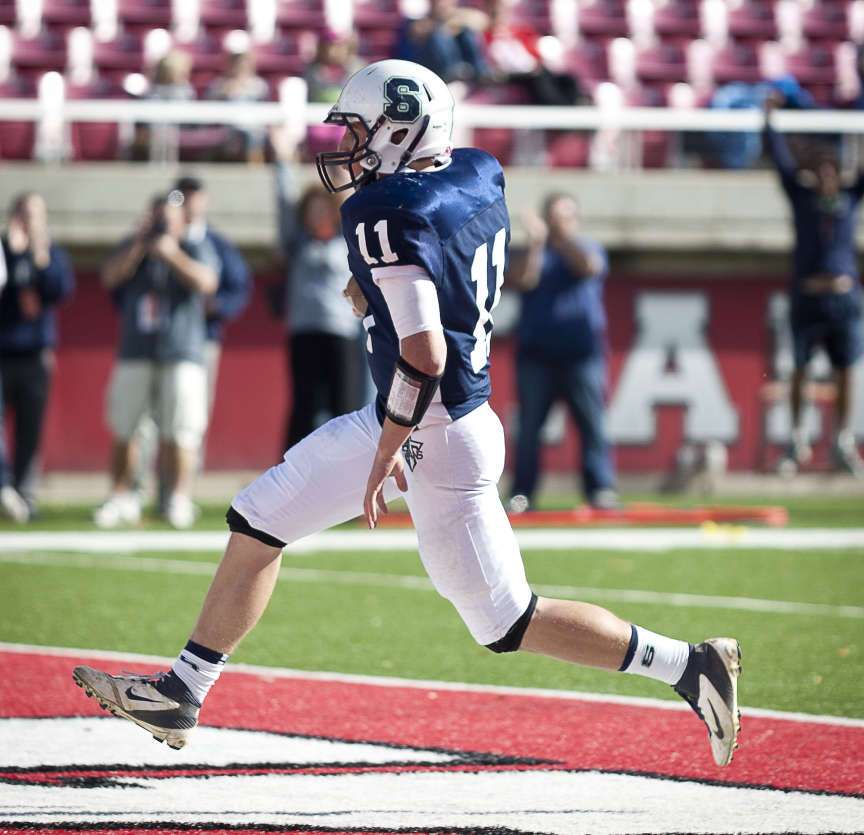 "We believe that we can win even when the whole state doubted us," said wide receiver/defensive back Dionte Mitchell. "The state didn't believe we could do it but the kids in Syracuse believed it and we were able to get it done."
One of those players was sophomore quarterback Kole Tracy. He had never taken in a snap in a varsity came until the game against Bingham. He threw two touchdown passes and ran for another helping the Titans score 21 straight points to take control of the game.
"As a sophomore, to come into a semifinal game against Bingham and do what he did today? That was very impressive," says Mitchell. "We're happy that he's one of ours."
The key to the Titans success has been defense. They give up just 9 points per game and are very good at putting pressure on the quarterback and forcing turnovers. "This group of kids has bought into everything we've said," says Jones."
Syracuse is the only undefeated team left in 5A yet they find themselves the underdog against Jordan. That isn't anything new for the Titans who continue to play the game with a chip on their shoulder.
"We're out to prove that the north can play football with these guys," says Mitchell.
They were counted out against Bingham. It may not be wise to count them out on Friday.
"Why not us," says Jones. "Here we come. We're the Titans."
No. 1 Jordan (11-1) vs. No. 2 Syracuse (12-0) 2:30 pm Friday
Jordan state championships: 11 (1931, 1934, 1936, 1939, 1940, 1941, 1944, 1947, 1948, 1950, 1994)
Syracuse state championships: None
What Syracuse must to to win: The Titans have been stingy against the run all season forcing opponents to beat them with the pass. No one has been able to do that yet. They held Bingham to just 130 yards rushing and while the Miners had two big plays in the pass game it wasn't enough to overcome five turnovers. If Syracuse can force Jordan to be one dimensional on offense and force Jordan into turnovers they can pull off the upset and win their first state title.
What Jordan must to do win: The Beetdiggers must take care of the football. Syracuse is a team that makes their opponents pay for turnover the football. Kafentzis has had a phenomenal year but he is prone to throwing interceptions. Tempo will also be important. If the Jordan offense turns this game into a shootout there is no way Syracuse can keep up. Defensively Jordan needs to make things difficult on the Titans sophomore quarterback Kole Tracy and take advantage of his inexperience. If Tracy builds confidence like he did against Bingham then Jordan could find themselves in trouble.
On paper Jordan is a heavy favorite in this game but there is something special about this Syracuse team. Adversity has only made this team stronger and they get safety Kavika Fonua back from injury making their defense even better than it was against Bingham. This game will be closer than many expect and will likely come down to a special player making a special play. Austin Kafentzis is a very special player.
KSL Prediction: Jordan 28 Syracuse 21
×
Related links