Estimated read time: 2-3 minutes
This archived news story is available only for your personal, non-commercial use. Information in the story may be outdated or superseded by additional information. Reading or replaying the story in its archived form does not constitute a republication of the story.
SALT LAKE CITY — What could possibly go wrong if someone sends you a check in the mail, and all you have to do is cash it?
Have you ever wanted to talk to the person who sent the check? I did, after someone sent a check to pay for taxes and handling fees for Utah resident Larry Eggett's lottery winnings.
Eggett explained, "I just went out to the mailbox and it was full. I opened it up and somebody always wanted me to send $20 and they'd send me millions."
Egget got the check in the mail for $3,950 from America Mega Lottery. Larry won a quarter of a million bucks, and the check was "to help pay any taxes, insurance, handling and shipping fees."
What could go wrong? They sent him the money, so there's nothing to lose.
"I was tempted with that," he said, "and that's when I called my daughter and said, 'What about this? Tell me what you think about it.'"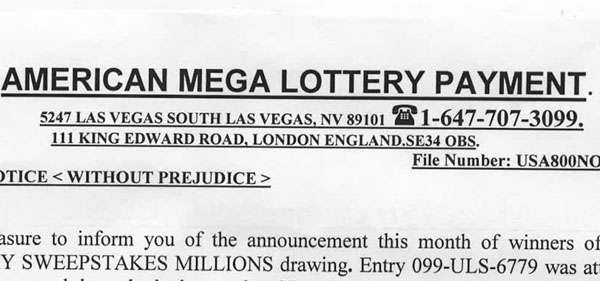 Egget's daughter, Jody Hugoe, told KSL, "I said, 'Just let me take it, I'll check into it, see what I can find out.'" I took it down to my office and pulled the name up on the Internet and sure enough, (there were) people who had gotten the same check and they were told to deposit it."
The check is from Primerica Life Insurance Company in Georgia. Really? I contacted them, and they know all about the scam. Their website even talks about frauds using their good name.
American Mega Lottery is supposedly in Las Vegas, or London, England. But the area code 647 is in Toronto. Either way, when I called, David answered. I gave him all the information on the letter, and I was in business.
"Yes," David said. "I just activated your check, so what you have to do is to sign on the back of the check."
He told me to then deposit it in my account.
---
There is no legitimate reason why anyone would give you a check or money order and ask you to wire money anywhere in return.
–FakeChecks.org
---
"When you are done, call me," he said. "Let me give the balance of the winnings back to you. I will also be giving you information on how to pay the tax and insurance."
"Then we get to your balance of $246,000," he added.
But before you get your money, Primerica writes on its website, the fraudster will ask you to "wire money to pay taxes or fees." But "the check is counterfeit, and the fraudster simply keeps the wired money."
Does the scam really work?
I told David, "I'm kind of out of work and I'm thinking of doing exactly what you're doing. Is it easy to rip people off this way? Can I do the same thing?"
He hung up.
Many, many variations of this scam have been going on for decades. Any time anyone you don't know asks you to wire money, suspect a scam.
×
Photos
Related links
Related stories
Most recent Utah stories