Estimated read time: 2-3 minutes
This archived news story is available only for your personal, non-commercial use. Information in the story may be outdated or superseded by additional information. Reading or replaying the story in its archived form does not constitute a republication of the story.
Ed Yeates reporting Utah researchers have successfully manipulated the regeneration of heads and tails in different places on a small animal. The research, though basic and in its very early stages, is one of many experiments trying to unravel the mechanism that controls the regrowth of body parts.
The easiest way to solve a complex problem is to reduce it to a simpler problem. In this case, that's exactly what Dr. Alejandro Sanchez Alvarado and his colleagues have done.
By targeting a simple molecule and manipulating a gene in a freshwater flatworm, University of Utah researchers were able to redirect the regeneration of the animal's head and tail to different locations. Instead of a head, one adult flatworm regrew two tails. Another had no tail but a head on both sides.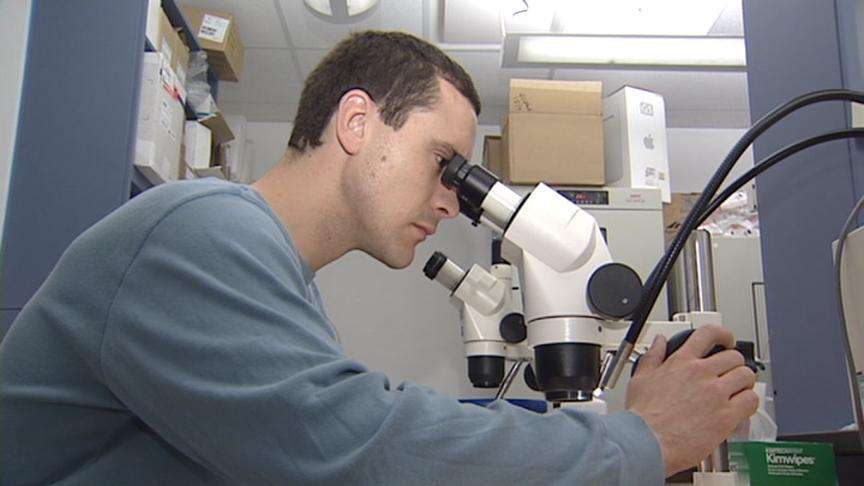 "We know that the genes that most organisms that regenerate utilize to accomplish such feats are genes that you and I have, and the question: 'How are they using this common tool kit to produce something like regeneration? We have those genes. Why can't we do it?" Sanchez Alvarado questioned.
Sanchez Alvarado says our understanding of regeneration is in its infancy. So, you start with the basics: a simple tool kit used by the flatworm. Then go from there, hoping to unravel more complex systems down the road.
But again, the successful regeneration inside this species of a flatworm in this lab is a long, long way from regenerating a limb in a human. "It's not that we cannot regenerate. It's just that it is manifested in a much more specialized fashion," Sanchez Alverado explained.
While the flatworm regrows heads and tails, we regrow blood and tissue cells by the billions--but not new fingers, arms and legs.
"We know animals can do this. We know genes are involved, but the way all of those components come into place is not known," Sanchez Alverado said.
However, the doctor says over time, researchers will learn more and more until, hopefully, the molecular keys open all the locks in sync.
In fact, on a smaller cellular level, the regeneration of neurons that could bypass a spinal cord injury might become a reality within the next decade or so.
×
Most recent Utah stories