Estimated read time: 2-3 minutes
This archived news story is available only for your personal, non-commercial use. Information in the story may be outdated or superseded by additional information. Reading or replaying the story in its archived form does not constitute a republication of the story.
Tonya Papanikolas reportingToday, President Bush announced a plan to freeze some home mortgage rates for five years. His plan will affect more than a million mortgages, but not all. It applies mostly to borrowers who were enticed to borrow by so-called sub-prime rates. But there are plenty of restrictions.
A Utah legislator has just filed a bill that addresses mortgage fraud. It offers a new tool for cracking down on violators. This is a rough draft of the bill, and the language and details still have to be worked out.
It follows on the heels of a bill from last year that allowed the state to fine mortgage fraud perpetrators, and now offenses are moving into the criminal arena.
When someone commits mortgage fraud in Utah, most would assume they would be prosecuted for the crime. But currently, mortgage fraud is not a crime in Utah. Sen. Sheldon Killpack is sponsoring mortgage fraud legislation. He said, "Apparently, we haven't had the right tool for the prosecutors."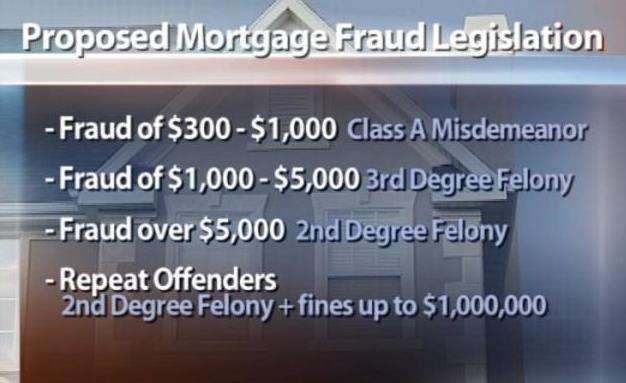 Until now, prosecutors had to arrest perpetrators under the umbrella of more general crimes, like theft. But Killpack is trying to change that with a new bill he just filed. "This takes mortgage fraud and makes it a second-degree felony, punishable with 3- to 30- years in prison and up to a million dollars fine."

**Proposed mortgage fraud legislation**- Fraud of $300-$1,000: Class A misdemeanor - Fraud of $1,000 - $5,000: 3rd Degree Felony - Fraud over $5,000: 2nd Degree Felony - Repeat offenders: 2nd degree felony + fines up to $1,000,000

Killpack said, "This has to be a big deterrent. When Utah is in the top five, we've got issues, and we simply have to address it."

The Utah Association of Realtors agrees the state desperately needs this legislation. "Anything, anything we can do to curb the mortgage fraud problem has a trickle-down effect and makes the market healthier," said Chris Kyler, CEO of the Utah Association of Realtors.

The bill's backers point out mortgage fraud doesn't just hurt direct victims. "All of the sudden you have a $500,000 home, truly worth $500,000, being sold for $5.2 million - that raises everybody's property taxes," said Kyler.

"Because of the fraud, we tend to have to pay higher percentage rates for our mortgages, up to a quarter percent higher," explained Killpack.

That also leads to more home foreclosures. Killpack said, "The residents of the state of Utah pay the price if we do nothing."

Another part of this bill that hasn't been ironed out yet will potentially give the attorney general's office two mortgage fraud investigators who will work closely with prosecutors.

The attorney general's office told us those additional staff members who would specialize just in mortgage fraud would help with their overwhelming caseload.

For more information on President Bush's "Hope Now" mortgage plan, click the related link or call 1-888-995-HOPE.

×
Related links
Most recent Utah stories