Estimated read time: 4-5 minutes
This archived news story is available only for your personal, non-commercial use. Information in the story may be outdated or superseded by additional information. Reading or replaying the story in its archived form does not constitute a republication of the story.
SALT LAKE CITY — Amid one of the more frustrating seasons in BYU football history, it's darned near impossible not to play the what-if game repeatedly.
Ten points are all that separates the Cougars from being 8-1. And along with that, they are a few fortuitous bounces away from a national ranking.
Let's be honest here. You blame Riley Nelson.
You're not alone. Tom Holmoe may be in your camp.
---
(Riley Nelson) has had some games this year where he has made mistakes that have cost us dearly. And he would be the first one to admit that.
–Tom Holmoe, BYU A.D.
---
In an interview with BYU announcer Greg Wrubell, the BYU athletic director said of Nelson: "He has had some games this year where he has made mistakes that have cost us dearly. And he would be the first one to admit that."
Speaking frankly, Nelson is the reason BYU lost to Utah, Boise State and Notre Dame. The boss basically said as much, at least how it's perceived.
Anyone thinking that couldn't be more wrong.
If you must, point the finger at the program's decision-maker, the head coach. It's Bronco Mendenhall's fault.
For sure, Nelson was erratic in the BYU-Utah game and downright awful five days later on the blue turf in Boise. And no Division I quarterback, let alone one at BYU, should have missed badly on a throw to a wide-open Cody Hoffman late against Notre Dame.
"Quarterback play is so important for BYU football, and for any team that wants to be a top 20 team," Holmoe said at the West Coast Conference basketball media day last week, "and Riley has done some great things for us through the years, but he's had some struggles this year."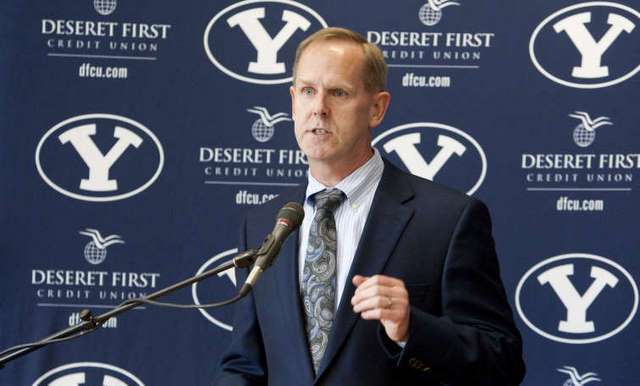 Obviously.
But it's wrong to single out one player.
Instead of isolating the quarterback, Holmoe needed to include Mendenhall in his criticism. Before mentioning Nelson, he should have said the coach has made mistakes that have cost BYU dearly.
By now, we know that Nelson's injuries rendered him ineffective against Boise State and not good enough in the emotional rivalry game. Problem is, Mendenhall knew before each game and yet he stuck with the injured player.
At Nelson's best, it's questionable whether he's good enough to beat a great team. The world knows Nelson has no chance if he's not healthy.
Mendenhall should have known better.
When Nelson asked for one more series against Boise State, Mendenhall needed to say no. For once, he should have looked past all of Nelson's determination and leadership skills. At some point, it's about talent.
Cougar Tracks:
It's also wrong to assert that Nelson owed it to the team to take himself out. With no chance of playing beyond college, Nelson knows this is his last shot. Grit and effort are not light switches that can be flicked on and off.
And Nelson is the essence of a team player. Ask his teammates.
It's probably even wrong to go after Nelson for the errant throw that might have led to BYU's biggest win in over 20 years. The BYU coaches knew full well what they were getting in Nelson. There's a reason he signed with Utah State out of high school before deciding to transfer during his church mission.
This isn't to say that Mendenhall hasn't done a fantastic job during his eight years as a head coach. It's nothing short of amazing the way he rebuilt the program virtually overnight after three consecutive losing years.
Even if football is too low on his priority list, Mendenhall's position at BYU is beyond reproach. But nobody is perfect.
Same goes for Holmoe, who is directly responsible for BYU's resurgence in football and basketball. The BYU administration, which extends up the chain of church leadership, should give him complete reign of the athletic department and rubber stamp his recommendations.
As a side note, the "DJ and PK in the Morning" show on 1280 AM The Zone and 97.5 FM last week went through BYU's chain of command to invite Holmoe on for an interview. We're still awaiting a response.
In his interview last week with Wrubell, Holmoe also mentioned the chemistry issues with the coaching staff during games. He's got a handle on the program, and Mendenhall should use him as a resource.
"I hear the criticisms," Holmoe said. "I think that people sometimes think that the coaches don't understand. They do, but sometimes the fixes and the corrections don't come immediately, and they try to do their very best for the team, not for the illusion or a quick fix, because quick fixes don't get you to where you want to go.
"It's important for me in my position to help identify ways that they can get better and can correct things that are going wrong, and get them on a track where they all want to be."
Frustration aside, BYU football and men's basketball are in good hands. Even if the quest for perfection comes up short.
×
Related stories
Most recent Sports stories