Estimated read time: 2-3 minutes
This archived news story is available only for your personal, non-commercial use. Information in the story may be outdated or superseded by additional information. Reading or replaying the story in its archived form does not constitute a republication of the story.
Keith McCord reportingWith Mitt Romney's ties to Utah, there was plenty of local interest in watching the speech. For many people here, they probably didn't hear much they didn't already know about Romney's faith, but what about viewers and potential voters in other states?
The dinner-table talk, watercooler discussions and campaign spin will go on for a while yet! No doubt about it, Mitt Romney's speech about faith in America certainly got Americans buzzing today.
Within minutes following the speech, interactive Web sites were filling up with comments by the thousands.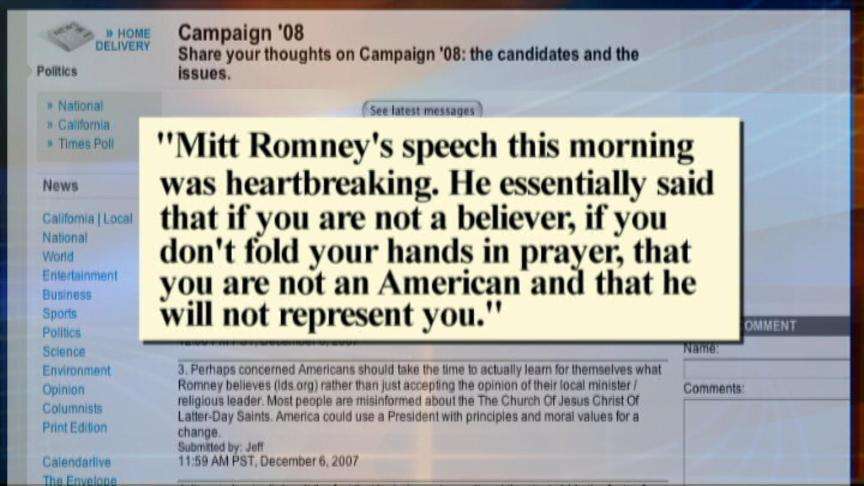 Conservative columnists were generally positive. One person wrote, "Interesting, and somewhat better than I thought." Another wrote: "That was perhaps the best political speech of the year. It was well-crafted and delivered with conviction."
One viewer was not impressed. The blogger said, "It doesn't matter if he's a Latter-day Saint, Hare Krishna or Catholic. I see Mitt's speech today as a grand stunt to jump-start a lagging campaign."
Another blogger thought the speech was so-so. "It's a speech he had to give, but I don't think it will make much of a difference in the primaries--there are just too many other, acceptable choices," said the blogger.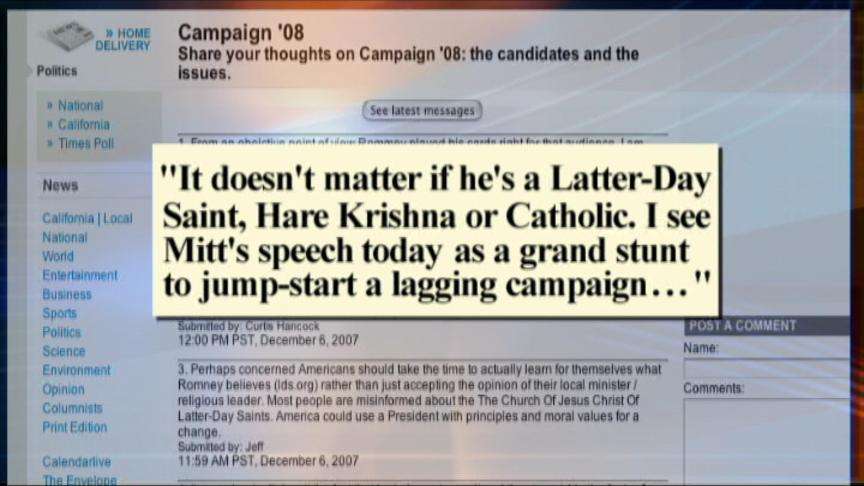 Romney also took a few shots for what he didn't say, perhaps it was an oversight by him, but people who do not practice a religion took offense. One columnist wrote: "It would have been nice if Romney, while making room for people of all faiths in this country, could have also made some room for people with none."
A woman named Mary wrote this in the New York Times: "Mitt Romney's speech this morning was heartbreaking. He essentially said that if you are not a believer, if you don't fold your hands in prayer, that you are not an American and that he will not represent you."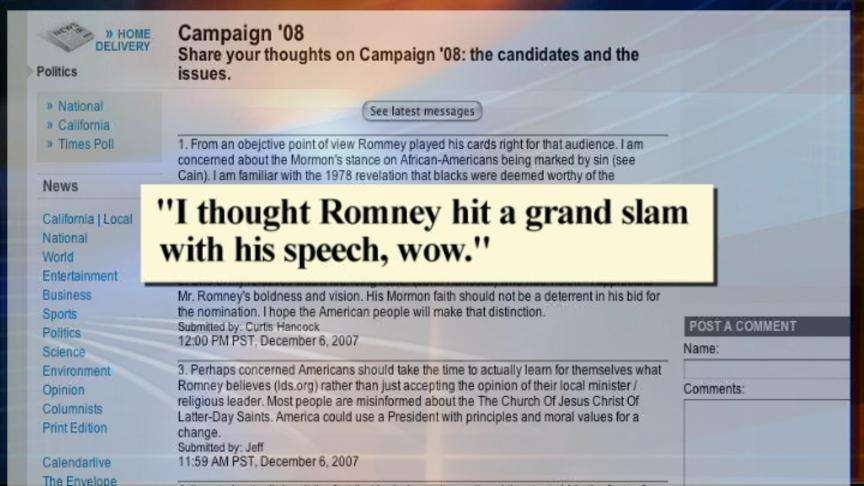 But, he did make a few political converts. Someone in California said: "I thought Romney hit a grand slam with his speech, wow." And finally, Sara in Iowa, where the caucuses are just 30 days away, wrote: "Mitt Romney just won my vote."
I checked out a lot of media sites in Iowa and New Hampshire, the first two states to vote. A New Hampshire TV station is conducting an online poll asking this question: "Does it matter how Mitt Romney or any other presidential candidate worships God? Forty-six of the respondents said, "Yes, it matters, and 54 percent said, "No, it doesn't."
×
Related links
Most recent Utah stories