Estimated read time: 3-4 minutes
This archived news story is available only for your personal, non-commercial use. Information in the story may be outdated or superseded by additional information. Reading or replaying the story in its archived form does not constitute a republication of the story.
SALT LAKE CITY — Bigfoot is, in addition to being a gentile and elusive mountain ape, incredibly hard to find. Thousands of blurry photographs and shaky videos have been taken of the creature, and some people even claim to have found footprints. Still, there is no solid evidence.
But what if you had a $300,000 helium blimp with heat sensors floating over its supposed forest habitat?
That's what Idaho State University professor and BYU graduate Jeffrey Meldrum is trying to get a hold of. He's looking for private donors to fund a dirigible capable of being remote controlled and which would use thermal imaging to detect the Sasquatch from the air.
"The challenge with any animal that is rare, solitary, nocturnal and far-ranging in habitat is to find them and observe them in the wild; this technology provides for that," Meldrum told Reuters.
He calls the idea the Falcon Project and said in a YouTube video that it will be capable of seeing through the gaps between trees in the intermountain west and the Blue Mountains, as well as scan wide areas of open fields.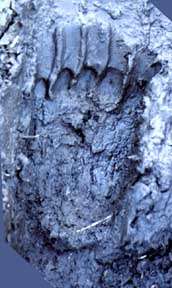 Reuters reports that the idea stemmed from the Bigfoot encounter of one William Barnes, a Utah man who says the creature came right up to him in Northern California in 1997. Barnes came to Meldrum with the idea and they are now trying to get the Falcon airborne sometime next year. Folks are often divided among those who see what they want in the evidence for Bigfoot and those who dismiss the possibility out of hand. But Meldrum seems only to believe in science. He studies comparative anatomy and anthropology, has been both praised and criticized for his work with Sasquatch. He is among the few scientists willing to seriously apply the scientific method to the search for the real life version of a legend that is told among many Asian and North American indigenous peoples.
"You have to be careful. I have been out with people for whom every overturned rock, every bent twig, every bump in the night is attributed to Bigfoot," he told the Houston Chronicle.
Melrum's academic research focuses on the feet of primates, especially monkeys, apes and humans. From a simple footprint, Meldrum can tell whether an animal was walking, running, turning or a host of other things. It was seeing the casts of the supposed footprints of a Sasquatch from the Blue Mountains that convinced Meldrum that the existence of the mountain ape was worth investigating. Not necessarily that there was definitive proof, but that there was enough evidence to pursue things further.
He has also authored a book on the subject "Sasquatch: Legend meets Science."
Meldrum and Barnes hope that with the right donors, they can put together an airborne expedition that could last several months — long enough to hopefully catch a glimpse of one of the most difficult-to-find creatures that has ever (possibly) existed.
×
Related links
Related stories
Most recent Utah stories