Estimated read time: 3-4 minutes
This archived news story is available only for your personal, non-commercial use. Information in the story may be outdated or superseded by additional information. Reading or replaying the story in its archived form does not constitute a republication of the story.
Lori Prichard reportingResidents of Sugar House made emotional pleas to the Salt Lake City Council Tuesday night to stop a sexually-oriented business from moving into their neighborhood.
It wasn't necessarily a storming of the city council chambers, but it did get lively when one man was escorted out by police when he took his protest of the Blue Boutique a little too far.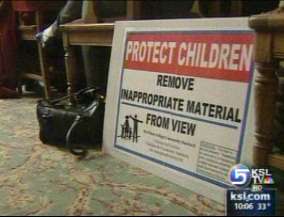 Some of the more than 50 Sugar House residents who showed up to protest the Blue Boutique's proposed location pleaded with the council as parents.
Annelle Doxey said, "The window displays and products they offer will greatly increase the amount of exposure that our children will have to items and pictures of a sexual nature. Studies have shown that this kind of exposure will damage the natural development of a child's personality."
Others took a more legal approach.
Jon Mitchy said, "I welcome neighborhood community businesses. But this type of business, in my opinion, I've read the statutes and the ordinances, and believe it is a sexually-oriented business."
Either way, after listening to the comments, Dionn Nielsen, who is a buyer for the boutique, says she's taking the protest personally. "To just be reduced as a sex shop really, really hurts me because I try for it to be something other than that," she said.
Eileen McCabe is one of the few parents who supports this business or, as she says, any local business. McCabe says these parents are missing the mark. She argues she doesn't have a hard time explaining sex to her children; instead she says it's explaining violence that's the hard part.
McCabe said, "I don't find it difficult to explain to them why someone would want to be pretty or why someone would want to take joy in sex. I find it very hard to explain to them why there are so many guns around."
The public comments on the topic lasted about an hour and a half. This night was not without drama. Toward the end the two sides got into a shouting match. Also, halfway through the comments, the owner of the Blue Boutique walked out.
We caught up with her in the hallway. She didn't want to go on camera, but she did say it's preposterous that she wants to hurt children in any way by running her business. She was adamant her shop will open, like it or not. The council is expected to make a decision by Dec. 15.
Tonight's City Council meeting was Rocky Anderson's last as Salt Lake City Mayor. Mayor Anderson has served for the last eight years and has often been criticized by city council members. He addressed them tonight and also talked to Eyewitness News.
"There's a bitter-sweet aspect to it, of course. It's been an amazing eight years, but I won't much miss most of these meetings, I can tell you that," he said.
After his remarks, Mayor Anderson received loud applause. Council members also gave Anderson a going-away gift: the novel "The Jungle" by Upton Sinclair.
×
Related links
Most recent Utah stories