Estimated read time: 2-3 minutes
This archived news story is available only for your personal, non-commercial use. Information in the story may be outdated or superseded by additional information. Reading or replaying the story in its archived form does not constitute a republication of the story.
Carole Mikita reporting Mike Huckabee and other candidates are not the reasons why Mitt Romney will give a speech about his faith Thursday, so says a documentary filmmaker who will bring his movie to Utah next week. His film, titled "A Mormon President," examines the idea, and Eyewitness News spoke with him by satellite this afternoon.
Adam Christing believes the real reason Mitt Romney has to give that speech goes back, not to the beginning of this campaign, but much farther--to the founder of his faith.
"I think there's about as much chance of a Mormon being elected president in the early part of the 21st century as Donald Trump marrying Rosie O'Donnell," an interviewee in Christing's film said.
In the documentary, Christing shows a series of people commenting on the possibility of having a Mormon in the White House. Some say they would love to see Romney as president, while others say that to many Evangelical Christians, voting for a Mormon is simply impossible.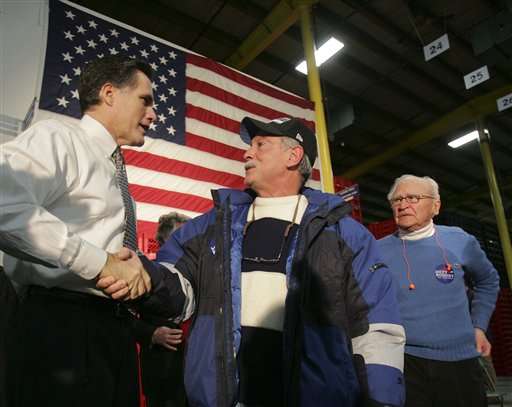 As Romney prepares to deliver a speech about his faith, many are speculating about why now? Christing, who is not a Latter-day Saint but is a member of the Mormon History Association, believes it goes back 163 years to the first Latter-day Saint presidential candidate: Joseph Smith.
"Mike Huckabee is not the main opponent for Mitt, it's actually Joseph Smith--who ran for president in 1844--because he created the Mormon doctrine that so many Evangelical Christians are worried about," Christing said.
Christing believes whatever Mitt Romney says about his faith or religion in America, it won't be good enough, because too many people still have too many questions about Mormonism.
"Mitt has caught a catch-22 because if he's too open, it will raise a lot of questions. But if he doesn't answer those kinds of concerns, then people are going to feel like he's being evasive," he said.
"He doesn't drink, he doesn't smoke, he doesn't swear. How can you trust a person like that?" a person in the documentary chuckled.
Another person interviewed said, "The Mormon church's basic premise is that all of the churches are wrong, that their creeds are an abomination, and that their professors are corrupt, and that really there are no true churches on the face of the Earth, except the LDS Church."
"I think he would be a shoe-in as the Republican candidate, automatic, except for one thing, and that's that he's Mormon," Christing said.
You can see Mitt Romney's speech, "Faith in America," Thursday morning at 8:30 a.m. live on KSL Channel 5, and streaming live on ksl.com.
"A Mormon President" will premiere here in Salt Lake City next Wednesday, Dec. 12 at 7 p.m. at Brewvies Cinema.
×
Related links
Most recent Utah stories