Estimated read time: 2-3 minutes
This archived news story is available only for your personal, non-commercial use. Information in the story may be outdated or superseded by additional information. Reading or replaying the story in its archived form does not constitute a republication of the story.
Sam Penrod reporting A Utah teenager is getting credit for helping to save an entire family when a house caught fire.
People of the small town of Kanosh called Eyewitness News to let us know about the teenager they call a hero. In the middle of the night, he saw flames and rushed to the rescue.
Scott Whitaker, 18, works the night shift at a cheese plant in Fillmore in Millard County. Even though he was very tired when he got off work after midnight, he went out of his way to check something out. Now he is getting credit for saving the lives of people who were asleep when their house caught on fire.
The town of Kanosh is quiet at 1:00 in the morning. It's a good thing that's when Scott was coming home from work.
"I saw some pretty big flames," he said. "At first I didn't think very much of it. I just decided to check it out. So, I pull up to the house and notice the south side of their house is on fire."
"[The flames] were higher than the house. The whole south side of the garage was engulfed in flames," Whitaker said.
Scott got out his cell phone, and while dialing 911 he started banging on the front door.
"He smelled the smoke after he woke up and knew what was going on after that," Whitaker said of a resident inside the home. "There was the mom and the dad and three kids."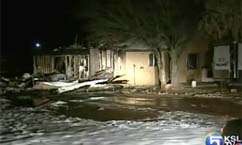 Scott helped to get the family safely outside and away from the home until the Kanosh volunteer firefighters arrived.
Firefighter Bill Olsen said, "The family got out OK. They were standing here, thank heavens. If it wasn't for Scott, I don't think they would have been."
As for Scott, he's downplaying any hero status and says he got all he wanted from the family.
"They've thanked me and that's about it," he told Eyewitness News. He says that's good enough for him.
Thanks to the generosity of neighbors in Kanosh, the family has another place to stay and is getting help after losing the home and everything they own.
×
Most recent Utah stories