Estimated read time: 2-3 minutes
This archived news story is available only for your personal, non-commercial use. Information in the story may be outdated or superseded by additional information. Reading or replaying the story in its archived form does not constitute a republication of the story.
John Hollenhorst reporting An international takeover battle has erupted around the parent company of Kennecott.
Mining giant Rio Tinto is said to be worth as much as $200 billion, which shows how profitable the mining business has suddenly become. The company has just rejected a merger with iron producer BHP, saying it undervalues the company.
The new market for metals could keep Utah's biggest mine open a lot longer than anyone expected.
Just a few years ago, the Bingham Canyon mine seemed to be facing extinction. Nearly 2,000 Kennecott workers worried about a possible shutdown in the year 2012. But now, Kennecott has told investors the mine could stay open to the year 2036, long enough for a young miner today to make a career of it.
Jim Cowley, vice president of sales for Kennecott said, "It's certainly possible."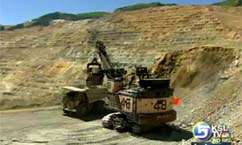 Cowley says the rosier corporate scenario stems from a worldwide rise in demand for industrial metals.
"I think the primary driver is the Chinese economy," he said. "The Chinese economy has been growing at well over 10 percent for the last several years and is projected to continue."
Copper prices bottomed out at historic lows in the late '90s. Now copper has rebounded, almost quintupling in value. That helped push Kennecott profits last year to a whopping $1.8 billion.
The international takeover battle involving Kennecott's parent company, Rio Tinto, reflects the fact that commodity prices are sky high. Will the gravy train continue? Higher prices are luring competitors to open new mines. Increasing supply puts downward pressure on prices.
"Other mines that have been shuttered are re-opening now," Cowley said. "Then, mines are doing their best to try to increase production, as well."
Even so, a new report from Standard & Poor's cites "the persistent remarkable strength" of metals prices, and raises expectations of "base-case prices to unprecedented levels."
Optimism is essential to Kennecott's future in Utah. Keeping the mine open three more decades means digging deeper, with an up-front investment of at least $1 billion. That longer life-span for the mine could be achieved by making the open pit larger, by starting an underground mine, or by a combination of the two. Kennecott has not said when it will make a decision.
×
Most recent Utah stories