Estimated read time: 3-4 minutes
This archived news story is available only for your personal, non-commercial use. Information in the story may be outdated or superseded by additional information. Reading or replaying the story in its archived form does not constitute a republication of the story.
Carole Mikita and Jed Boal reporting The much-talked-about Mitt Romney speech addressing his religion is scheduled for this Thursday in Texas at the President George Herbert Walker Bush Library.
For months, Romney has led the polls in both Iowa and New Hampshire. In the last week, Mike Huckabee has taken that lead in Iowa.
Political pollster Dan Jones said, "What they've got to do is stop the bleeding. He's been going down. They think it's mainly about misunderstandings of the LDS faith."
Also last week, many analysts feel that Romney stumbled in his YouTube debate a question about the authenticity of the Bible.
Though advisers have warned him against it, Romney will talk about "Faith in America."
Despite his repeated insistence that he is running for commander-in-chief not "pastor-in-chief," Romney will talk about his faith and how that faith would affect his presidency if elected.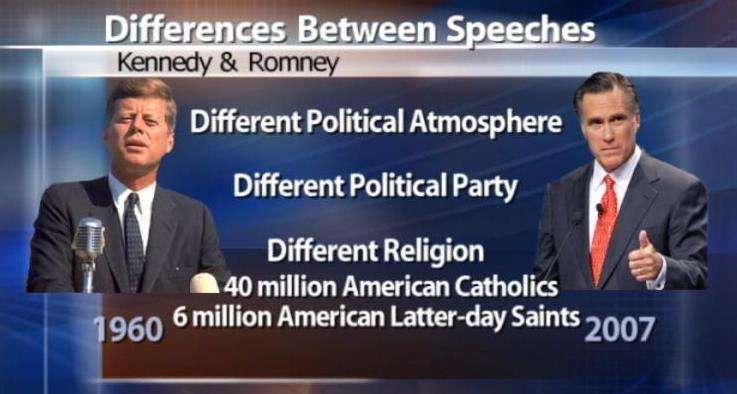 "I don't know that even at this stage my faith is a significant factor in my race. I just don't think, in the final analysis, it will be the deciding factor," Romney said.
"It's not for the faint of heart," Kirk Jowers, of the Hinckley Institute of Politics, said. "I think the advisers were nervous to have him do it because it really is, it does have some high stakes to it. I think Romney will do a masterful job with it, but ... there's certainly an easier way to go, which is not giving the speech."
Political scientist and pollster David Magleby, said, "It's been a subtext for the entire campaign, and Romney, therefore, has to explain that he is, in fact, a Christian and that religious values matter to him."
Magleby and Jowers, who is an ardent Romney supporter, agree that Romney's challenge is harder than the one then-Senator Kennedy faced in his 1960 speech.
They say the differences are huge: Now, the campaign season is much longer and more intense. Kennedy was a Democrat, Romney a Republican. In 1960, with 40 million Catholics, Americans understood more about that faith. With six million Latter-day Saints, the faith still remains a mystery to many.
Jones said, "If he can correct those misunderstandings, individuals will come back into his column, and he will do much better than the polls indicate today."
Jowers says Romney needs to first acknowledge the theological differences but stress similar values, and then affirm his position of leadership. "To reconfirm that the LDS church leadership will not have a say in our nation's business if he's the president. It's large enough for Harry Reid and Mitt Romney," Jowers said.
"It's a defining moment in his campaign to clarify what it is about Mormonism that voters need to understand, and if he does that well, I think he can take this issue off the table," Magelby said.
Jones said, "It's a very high risk, but if there's someone on the stump today that can do it, it's Mitt Romney."
The LDS Church declined to comment about the speech, but church leaders say they will watch with interest.
Romney will deliver that speech Thursday morning at 8:30 a.m. MST. Eyewitness news will bring you complete team coverage both from Texas and here in Utah.
You can also watch the speech live on KSL Channel 5, and streaming live on ksl.com.
×
Related links
Most recent Utah stories