This archived news story is available only for your personal, non-commercial use. Information in the story may be outdated or superseded by additional information. Reading or replaying the story in its archived form does not constitute a republication of the story.
SALT LAKE CITY — Shocking video of high school sportsmanship at its worst has recently come to light, showing an East High player taking a knee to a Woods Cross player's face.
This incident happened about two weeks ago, but the video is just now coming to light. The parents of the player who was kneed in the face say behavior like this needs to be stopped.
KSL talked with East High's principal, the athletic director at Woods Cross, and the Utah High School Athletic Association, and everyone agrees that the actions of East High player are unacceptable and dangerous.
The video shows Woods Cross soccer game against East High School on Sept. 27. Makenzie Clark of Woods Cross, No. 12 in blue, goes for the ball, rolls her ankle, then tumbles to the ground on all fours in front of East High's No. 12. The East High player takes a step back, then forward and pulls her knee into Clark's face.
The offending athlete, Petiola Manu, apologized Monday afternoon, telling reporters, "I let my emotions get the best of me and I took it too far. And I just want to apologize to (Makenzie) and everyone. I'm sorry."
Clark's mother, Susie Clark, sent the video to KSL after receiving it from another parent a few days ago. She says it makes her sick just watching it.
"Sick to my stomach and so grateful she didn't hit her in the temple, that she didn't break her jaw," the mother said. "I mean, there were so many other things that could have gone wrong that were really, really lucky Makenzie was OK."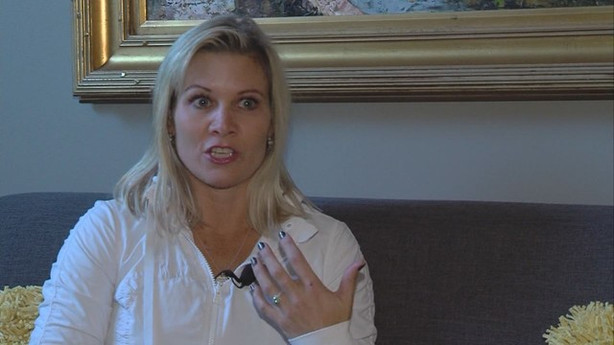 At the time of the incident there was no penalty called and Manu was allowed to continue the game. She was, however, eventually pulled out by her coach for other reasons.
"I'm not naive," Susie Clark said. "I know that soccer is a rough sport, and there's a lot of getting banged around ... which is a part of the game. That's totally understandable."
But what's seen in the video is not. East High's Principal Paul Sagers saw the video for the first time Sunday night and told KSL Monday that it's obvious his student was wrong.
"You need to know how to be physical and not cross the line of being physical, and the play had been stopped in this case, and it was blatant and no excuse for it," Sagers said.
He met with the player, who is said to be remorseful about what happened and will likely apologize to the Woods Cross player. We're told she'll face consequences from the school as well.
In the meantime, the staff at East High will use this incident as a teaching opportunity about sportsmanship, which is exactly what Susie Clark was hoping would happen.
"A knee to an unprotected head is unacceptable, that kind of unsportsmanship is unacceptable, and I don't want a player to get away with this to set a precedent for it to be able to happen again, that they can get away with something," she said.
The Utah High School Athletic Association says it will conduct its own investigation into what happened.
Contributing: Devon Dolan
×
Photos