Estimated read time: 3-4 minutes
This archived news story is available only for your personal, non-commercial use. Information in the story may be outdated or superseded by additional information. Reading or replaying the story in its archived form does not constitute a republication of the story.
Alex Cabrero reportingThe first day of December reminded all of us how Utah is supposed to look in the winter, and boy was it a mess out there. The Utah Highway Patrol was slammed with calls from people who needed help on I-15.
Whether it was a crash, a slide-off, or they were just stuck in snow, it seems anything that could happen to drivers on the slick roads did. Saturday morning the snow was falling fast enough to make you think we lived in a big snow globe.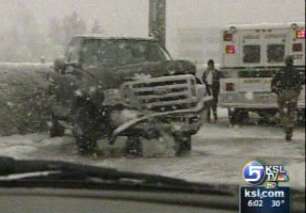 We spent one hour on I-15 here in Salt Lake County Saturday, just to see how many problems we could find. We began our hour-long mission at 10:30 a.m., heading south on I-15 from Salt Lake City, where the snow was still coming down hard.
Just seven minutes later, at 5100 South, we saw two pick-up trucks slide into each other, each one ending up on opposite sides of the interstate.
We then got off an exit and headed northbound. At 4500 South we saw another big crash. It turns out the driver of a red Jeep lost control and hit an 18-wheeler.
Ken Berry said, "All of a sudden, I felt like my tire picked up, and I just started shooting across traffic."
He tried to recover but ended up slamming into Mark Bartholomew.
Mark Bartholomew said, "Spun out, hit the truck, spun out around and came across in front of me and finished me."
We turned around and went back southbound, where at 11:07 at 7200 South, we saw two more slide offs. Six minutes later, heading back north at about 5000 South, we saw a truck that hit the median. A fire truck and ambulance were called to help.
Down in Draper, at 12000 South heading northbound, a trooper was helping a driver who scraped the wall. A few miles and six minutes later we saw another driver who had lost control and ended up facing the wrong way.
Then, just a minute after, still heading north, we saw two cars in a crash at 4500 South. In all, we saw seven accidents in our hour-long trip, proving troopers have been busy.
UHP Sgt. Stephen Manful said, "Basically, as we clear one call, another call comes in and we respond to that."
In Salt Lake County alone, troopers responded to nearly 300 weather related calls. Most of the accidents involved minor damage and slide offs. At least 36 people were injured in various accidents.
Troopers in Utah County were also very busy Saturday. They had at least 100 reported accidents.
Even after the snow passed on through, officials in Weber County were dealing with accidents. Between 6:00 and 8:00 Saturday night they responded to more than a dozen. At least three of those accidents involved people with injuries.
Davis County officials tell us they had a lot of accidents Saturday, but they haven't totaled them all up yet.
One thing this storm didn't effect too much was air travel. Airport crews spent the day plowing runways and de-icing planes. Airport officials tell us there were some minor delays for flights coming into Salt Lake but nothing major. They also say that no flights had to be canceled.
The storm brought good news to skiers and snowboarders. Alta, Park City, Brighton, Snowbird and Snow Basin all received about a foot of new snow. Brian Head received quite a bit of new snow, as well. Nine of Utah's 13 resorts are now open, and Ski Utah says the other four should be open by mid-December.
With all the snow that's fallen, we're sure a lot of you are itching to get up to the resorts. Well, now you can take the bus. UTA is offering limited ski bus service to resorts in both Big and Little Cottonwood Canyons.
×
Photos
Related links
Most recent Utah stories