Estimated read time: 3-4 minutes
This archived news story is available only for your personal, non-commercial use. Information in the story may be outdated or superseded by additional information. Reading or replaying the story in its archived form does not constitute a republication of the story.
OREM — A man who police say is responsible for a string of burglaries at college athletic departments in several western states — including incidents at Utah Valley University and BYU — has been arrested in Orem.
Teto Faust Faust, 30, of Colorado Springs, Colo., was arrested Oct. 5. Police believe Faust stole baseball bats, hats, a jersey and a laptop from the UVU baseball team as well as the Orem Owlz, a minor league club that also plays at the university, according to UVU Police Sgt. Justin Sprague.
Investigators also believe he's responsible for a recent burglary at BYU's athletic department where flat screen TVs, headphones, keys, athletic clothing and a camera were taken, Sprague said.
In addition, Faust currently has felony arrest warrants in Colorado and New Mexico for burglary. Sprague said detectives believe Faust's trail of thievery can be linked to Adams State College in Alamosa, Colo., Fort Lewis College in Durango, Colo., and Boise City High School in Oklahoma.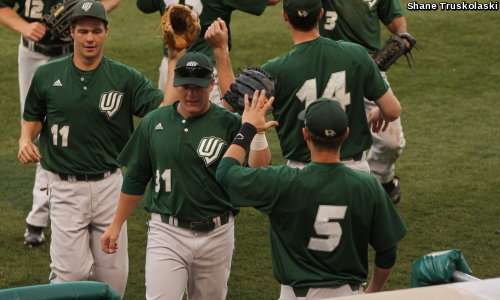 UVU's burglary happened on Sept. 23 about 11:30 a.m. Faust is believed to have pried a door open to get into the athletic department offices. At one point, he actually came face-to-face with an equipment manager, Sprague said. But because of the way Faust, who is listed in jail documents as 5 feet 10 inches tall and 210 pounds, was dressed and because of his build, the manager assumed he was baseball player.
Surveillance video, however, captured images of the man and his vehicle, which were distributed to several school departments, Sprague said. Originally, detectives thought a student might have been responsible for the burglary.
On Oct. 5, one of those school employees who had watched the video spotted what he thought was the suspect's vehicle parked at University Mall. Officers responded to the mall immediately and then waited for Faust to come out. According to Sprague, he started to run off when he realized police were there for him, but officers were able to chase him down and arrest him.
Sprague said Faust seemed to specifically be targeting athletic departments. Inside his vehicle — which was stolen — he had about $10,000 worth of stolen athletic merchandise from various schools, including a back window filled with ball caps, all with collegiate logos, according to police.
---
Inside his vehicle, which was stolen, he had about $10,000 worth of stolen athletic merchandise from various schools, including a back window filled with ball caps, all with collegiate logos, according to police.
---
"That appears to be kind of what his M.O. was," he said. "He was targeting athletic groups and kind of blending in."
Why he focused on athletic gear, however, was unknown Thursday. Sprague said detectives believe Faust had been in Utah for a couple of weeks and had been living in his vehicle. He may have been in the Beehive state to lay low while Colorado police searched him, the sergeant said. It was unknown Thursday whether Faust has any Utah ties.
An associate of Faust pawned some of the stolen merchandise in Utah for money. Whether the associate knew he was selling stolen goods was still being investigated Tuesday.
Faust was booked into the Utah County Jail for investigation of five counts of burglary, theft of a stolen vehicle, drug possession, forgery and fraud. He has also been charged with aggravated sexual abuse of a child in Colorado Springs, according to UVU police.
Investigators were looking Thursday at whether Faust can be linked to crimes in El Paso County, N.M. and Albuquerque.
×
Most recent Utah stories