Estimated read time: 3-4 minutes
This archived news story is available only for your personal, non-commercial use. Information in the story may be outdated or superseded by additional information. Reading or replaying the story in its archived form does not constitute a republication of the story.
SALT LAKE CITY — Republican presidential nominee Mitt Romney is in the best position he seen since Aug. 29, according to analysts, but the relative tie in voter polls may not be enough to win him the election.
Romney has seen a significant increase in the polls since last week's debate, seeing an average of a 3.1-point gain, but gaining as many as 12 points in some polls. Pres. Obama gained in two polls.
Nate Silver with FiveThirtyEight forecasts that Pres. Obama will only have a 2-percent lead in the popular vote after what many called a disappointing debate performance lost him most of the ground he had gained in September.
The president is also currently at the lowest electoral vote forecast he has seen, dipping below 300 for the first time. He is forecast to win 297 to Romney's 241.
Despite Romney's recent gains, though, the GOP candidate has a lot of ground to gain over the coming weeks if he hopes to beat Pres. Obama, Silver says. Romney currently has a 28.8-percent chance of winning the presidency, which, while his highest number yet, is still not very good odds.
Both candidates' performances in coming debates — along with those of their running mates — could shift the election in either direction, according to Silver. Swing state polls, too, could give a more accurate prediction. For now, though, Romney has to focus on maintaining the momentum he built up on debate night.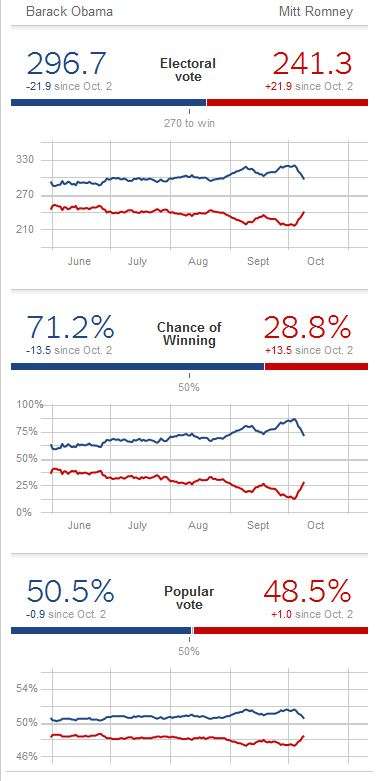 "The forecast model is not quite ready to jump on board with the notion that the race has become a literal toss-up; Mr. Romney will need to maintain his bounce for a few more days, or extend it into high-quality polls of swing states, before we can be surer about that," Silver wrote.
Other political news
Ann Romney said Wednesday on ABC's "Good Morning America" that her love of horses helped her overcome her fear that her multiple sclerosis diagnosis would put her in a wheelchair. "Turned to horses, my life has been dramatically different," she said, according to the Associated Press. "They gave me the energy, the passion to get out of bed when I was so sick that I didn't think I'd ever want to get out of bed."
Actress Stacey Dash has been lambasted on Twitter for voicing her support for Republican Mitt Romney. "Vote for Romney. The only choice for your future," the "Clueless" star tweeted Sunday morning. In the days following, Dash has been verbally attacked on the site and even threatened with death, Yahoo News reports.
Westgate Resorts CEO David Siegel is getting attention after sending out an email to his 8,000 employees urging them to vote for Mitt Romney and saying if Pres. Barack Obama is re-elected and taxes on his business go up, he would be forced to lay off employees. "The economy doesn't currently pose a threat to your job. What does threaten your job however, is another 4 years of the same Presidential administration," he wrote in a Sunday email to his employees, according to Gawker. "Of course, as your employer, I can't tell you whom to vote for, and I certainly wouldn't interfere with your right to vote for whomever you choose.
Pizza Hut's most recent marketing scheme may prove to be its most controversial. The company is offering a lifetime supply of pizza to anyone who asks at the town hall-style debate Thursday if the presidential candidates prefer sausage or pepperoni. Successful debate trolls can alternatively take a check for $15,600, according to the Chicago Tribune, which notes the stunt, if pulled off, is likely to infuriate some voters who tune in to the debate hoping to hear about policy.
×
Related links
Related stories
Most recent Politics stories