Estimated read time: 3-4 minutes
This archived news story is available only for your personal, non-commercial use. Information in the story may be outdated or superseded by additional information. Reading or replaying the story in its archived form does not constitute a republication of the story.
Gene Kennedy and Tonya Papanikolas reporting The Utah Highway Patrol backs its trooper who fired a Taser at a citizen who refused to sign a speeding ticket.
"The officer in this case, Trooper Jon Gardner's actions were lawful and reasonable," UHP says.
The Utah Highway Patrol has completed its investigation into the Taser incident near Vernal that been seen more than a million times on YouTube. The video of that incident made its way around the Internet and got the attention of people around the world. Some were infuriated; others supported the trooper.
Public Safety Commissioner Scott Duncan said, "We are concerned about public confidence."
An image of Utah troopers being taser-happy is part of the reason why the highway patrol called the press conference. But tonight, UHP says the trooper did not violate the department's taser policy. While UHP may justify the tasing, it does not stand behind the trooper's communication, or lack thereof. The trooper could still be disciplined after all.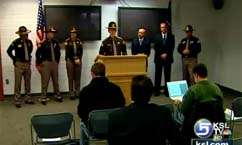 At the news conference today, investigators said they broke this case down into several categories as they did their internal review.
UHP announced there was a breakdown in communication. Investigators feel the officer who dealt with Jared Massey in this incident did not communicate well enough with Massey when giving him the speeding ticket.
The second area they went into was the investigative process. They say there was a delay in reporting the incident. The Department of Public Safety said they did not find out about it until three days after it happened, about the same time it was posted on YouTube.
The most important area UHP officials talked about today was the use of the Taser. They said they feel that using it was justified and reasonable because when an officer is out there, he or she has only a split second to make a decision on the use of force.
If a citizen refuses to sign a ticket, a trooper has the option of taking that person into custody. Massey refused the order and started walking away. UHP says the trooper may have sensed a threat.
"I would be very concerned if I was trying to arrest someone and they turned their back to me, started to put their hand in their pocket, walking back to the car," Duncan said.
Massey was unavailable for comment tonight but has previously said, "He just wouldn't explain why he pulled me over, and then he asked me to get out of the car. I thought he was gonna let me show him the sign."
Massey says the trooper never said a word about arresting him.
Col. Lance Davenport, a highway patrol supervisor, said, "There was, in our opinion, a lack of communication on the part of Trooper Gardner."
And he could face discipline as a result. That could mean anything from a letter of reprimand up to termination.
Officials say they held the news conference today because they are very concerned and want the public to feel safe with troopers out there.
"We are worried about public confidence, and that maybe the confidence with the Highway Patrol, with the Department of Public Safety and law enforcement in general was damaged here, and so we hope to restore that confidence," explained Duncan.
Meanwhile, Trooper Gardner is still on leave, primarily to keep him safe. He's received numerous anonymous threats.
Right now, UHP doesn't know what the consequences for him are going to be because this is still under investigation. Officials are, however, turning the investigation over to the Utah Attorney General's Office to see if there was any criminal wrongdoing in the case.
×
Related links
Most recent Utah stories