Estimated read time: 3-4 minutes
This archived news story is available only for your personal, non-commercial use. Information in the story may be outdated or superseded by additional information. Reading or replaying the story in its archived form does not constitute a republication of the story.
PRICE — It's been 11 months since a Carbon County man's body was discovered in a sewer pipe, and investigators still don't know how he died or how he ended up at the bottom of a manhole in his family's front yard.
Christopher David Robertson's body was discovered Dec. 12 about 10:30 a.m. by crews with the Price River Water Improvement District, who were conducting monthly checks on the district's sewer lines.
"I didn't expect what I saw," Carbon County sheriff's detective David Brewer said Thursday, remembering his first reaction when he arrived at the scene near 1500 South and U.S. Highway 6.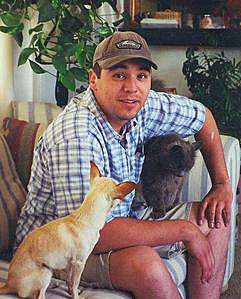 What Brewer and the other investigators found was the nude, badly decomposed body of man floating face down in sewage with his head stuck in one of the pipes that connects with the manhole.
"Based on investigation and timeline, he was probably down there about three weeks," Brewer said.
It took the state medical examiner several days to identify the body as Robertson, a father of six who had terminal cancer and had been reported missing by his mother on Nov. 29.
"He'd had surgery in his knees, and we had to take numbers off the replacement parts from that to crossmatch it (to) find out who he was," Brewer said.
Robertson, 38, had alcohol and methamphetamine in his system, but not at levels that could have caused his death, the detective said. The man also had no obvious or underlying injuries that could have proved fatal, according to the state medical examiner. His cause of death has been listed as undetermined.
Investigators do not believe — based on the advanced stage of Robertson's cancer — that he could have lowered himself into the manhole, held on to a ladder rung with one arm and pulled the manhole cover back into place on his own.
"I don't think he had the strength to do that," Brewer said, adding that it's possible someone panicked after helping Robertson end his life and put his body in the manhole.
"That's a possibility," he said. "It's one of the many we think about."
---
Anyone with information about the case should call the Carbon County Sheriff's Office at 435-636-3251.
---
But if that's the case, detectives find it odd that someone would choose the manhole where Robertson was found. It sits less than 5 feet off U.S. Highway 6, a busy highway that connects Price to Green River and Moab. It's also less than 200 feet from the homes where Robertson's parents and grandparents live.
"We believe there's a possibility of foul play only because of the circumstances involved," Brewer said. Authorities have been able to create a basic timeline of Robertson's last days, but Brewer said there are still gaps that they need to fill in.
Someone in the community has the information needed to solve the case and give Robertson's family the closure they deserve, he said.
"I think if we could narrow down the exact point of the last time he was actually seen with someone, that would be very helpful," the detective said.
Anyone with information about the case should call the Carbon County Sheriff's Office at 435-636-3251.
×
Photos
Related stories
Most recent Utah stories