Estimated read time: 6-7 minutes
This archived news story is available only for your personal, non-commercial use. Information in the story may be outdated or superseded by additional information. Reading or replaying the story in its archived form does not constitute a republication of the story.
LEHI — It doesn't take particular skill to grow large pumpkins, with thousands of casual gardeners doing it every year. But there's an elite group of growers who regularly rewrite the record books by cultivating pumpkins so monstrous that they earn nicknames like Godzilla, Sasquatch and Goliath. These zealous growers belong to the cult of the giant pumpkins, and they're all chasing the world record — a 2,009-pound behemoth that was officially weighed in Rhode Island last month.
The most possessed pumpkin growers spend thousands of hours and thousands of dollars trying to outdo the competition. They use bizarre techniques, like double vine grafting and potent cocktails of nutrients so effective that their pumpkins sometimes explode because they can't contain the rapid growth. Some have even turned to supernutrients like ZeoPro, which was developed by NASA to grow plants in space. Then they haul their gargantuan pumpkins to one of the nearly 100 weighing events sanctioned by their governing body, the Great Pumpkin Commonwealth.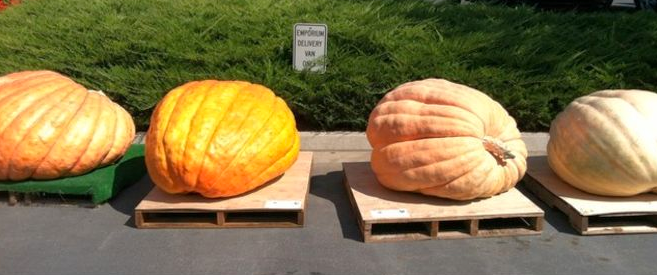 Winning a weigh off is a daunting prospect, and some growers commit their lives to the pursuit of pumpkin glory. Consider this excerpt from a New York Times profile of a giant pumpkin grower in Iowa:
"Extreme gardening involves money and sacrifice. (Don) Young wakes up in the middle of the night to check his pumpkins. He uses 27,000 gallons of water a month — nearly enough to supply a family of four for a year — and he has 80 sprinkler heads. He runs heat lamps all night after planting seeds in the chilly April ground and cools his gourds with fans in sweltering midsummer heat. He can't remember the last time he took a vacation."
It's not too difficult to spot a champion grower like Young at a Great Pumpkin Commonwealth event: They're never far from their massive pumpkins, they're often sporting the special leather jackets that the Commonwealth gives to the elite members who have grown a pumpkin over 1,400 pounds and they typically have a crazed glint in their eye.
Those fortunate enough to grow a record-breaking pumpkin can find their way into some major rewards. First, there are the cash prizes. Ron Wallace, who broke the world record with his 2,009-pound pumpkin last month, received $5,500 for taking first place at the event, plus a $10,000 bonus for growing the first-ever pumpkin to weigh more than a ton.
In addition to the cash prizes, growers crave the prestige that comes from winning a Great Pumpkin Commonwealth competition. And lastly, the seeds from record-breaking pumpkins are a valuable commodity — and have actually sold for as much as $1,600 each.
Giant pumpkins in Utah
While few Utahns have taken pumpkin growing to the extreme lengths of their Commonwealth peers, there are certainly elite growers in the ranks of the Utah Giant Pumpkin Growers. On Sept. 29, the UGPG held its first big event of 2012: the eighth annual Utah Giant Pumpkin Growers Weigh Off. Held at Thanksgiving Point, the event attracted a large crowd of pumpkin fanatics and curious viewers.
The largest pumpkin at the weigh off was a 1,454-pounder, grown by Tyler Quigley of Mountain Green, Utah, while two other pumpkins weighed in at more than 1,000 pounds. The current state record was set in 2011 by Matt McConkie, also of Mountain Green. His 1,600-pound beast broke the previous state record, which he'd set the year before, by more than 400 pounds.
If you're interested in seeing giant pumpkin mania for yourself, there are two excellent opportunities coming up. The first is the Utah Ginormous Pumpkin Regatta, which will be held at the pond at Sugar House Park on Saturday, Oct. 20., from noon to 2 p.m. The regatta offers the chance to watch pumpkin lovers paddle hollowed-out pumpkins as large as 1,500 pounds across the pond in a surreal racing event.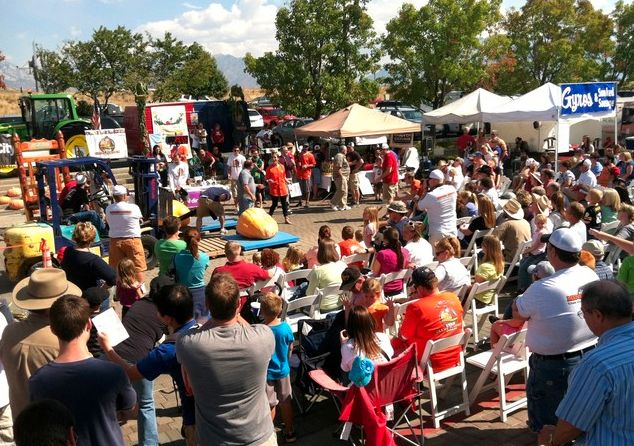 Spectators are allowed to ride in some of the pumpkins and get their photos taken. Prizes for participants and onlookers alike will be provided by several local businesses. This is the second time the regatta has been held in Utah and is representative of the growing enthusiasm for giant pumpkins in the state.
If explosions are more your style, then don't miss the fourth annual Giant Pumpkin Drop at Hee Haw Farms in Pleasant Grove. On Saturday, Oct. 27, crowds will gather at the farm to watch mega pumpkins drop 175 feet from a crane. To heighten the drama, Hee Haw officials put targets on the ground below, like pianos, cars and swimming pools.
Participants who bring their own giant pumpkin to drop receive a free family pass to the farm, while those pumpkin-less can buy a regular-sized pumpkin to drop for $2. The fun thing about the drop is that you personally get to pull the release rope, sending your pumpkin plummeting toward the targets below.
Last year's event had a total of more than 10,000 pounds of pumpkins dropped, which helped raised $1,010 for the March of Dimes. Organizers have again committed to donate one dime for every pound of pumpkin that is dropped and hope to raise more money through this year's event.
Growing a giant pumpkin
So how does one grow a record-breaking pumpkin? The UGPG offer free tips on its website. Of particular note, there is information on these 13 critical elements of giant pumpkin growing:
Preparing the soil
Sowing the seeds
Transplanting the seedlings
Protecting the seedlings
Training and burying vines
Bugs and disease
Pollinating flowers
Repositioning set pumpkins
Selecting the most promising pumpkin
Terminating vines
Fertilizing
Watering
Keeping track Ask any experienced gardener and they'll tell you that growing giant pumpkins takes a lot of research, a lot of work and a lot of luck. The process that gardener Jim Bryson used to grow his 2011 world-record pumpkin provides an insightful case study. He began in April by soaking his special Atlantic Giant pumpkin seeds in a wet towel for 30 hours until they sprouted. Over the next 10 days, he nurtured the seedlings in small pots under grow lights. Bryson then carefully moved them to his heated greenhouse, where he continued to dote on them each day. As the weather warmed, he removed the greenhouse walls to allow the vines to stretch freely into the garden.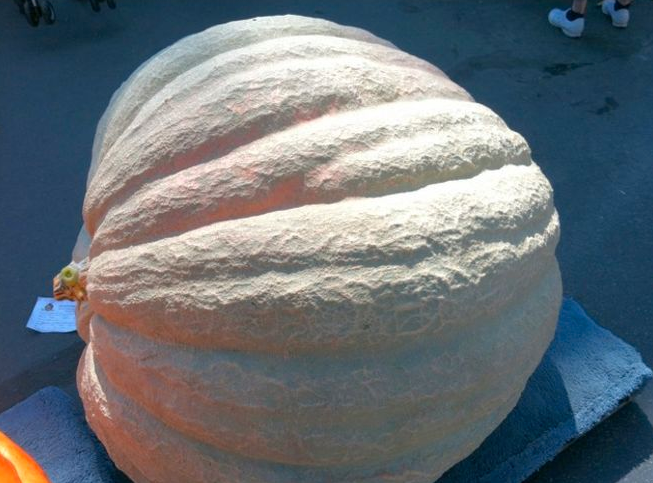 Near the end of June, he painstakingly pollinated each of the plant's flowers by hand. The next step was to select a promising flower and remove all the others, so that the vine could channel all the nutrients to one monster pumpkin. Once Bryson had made his pick, only time would tell if he'd chosen a winner or wasted hundreds of hours. During the peak of the growing season, his pumpkin packed on more than 40 pounds a day and once it reached optimal size, he carted it off to a Commonwealth-sanctioned weigh off held in Wisconsin and captured the world record.
Despite the difficult learning curve, first-time growers have been known to make a splash in the giant pumpkin world. For example, three of the top 10 pumpkins at the Thanksgiving Point weigh off were submitted by first-timers. So if you are feeling the intoxicating allure of giant pumpkins, talk to some experienced growers in your area and get the information you need to get started. Who knows? With some hard work and a bit of luck, you may grow the next world-record pumpkin!
Grant Olsen joined the ksl.com team in 2012 as a contributing writer. He covers travel, outdoor adventures and other interesting things.
×
Photos
Most recent Utah stories