Estimated read time: 2-3 minutes
This archived news story is available only for your personal, non-commercial use. Information in the story may be outdated or superseded by additional information. Reading or replaying the story in its archived form does not constitute a republication of the story.
SALT LAKE CITY — Scientists have discovered the world's oldest prosthetic device on an Egyptian mummy from between 950 and 710 B.C.
The three-part prosthetic device, made of wood and leather, was originally thought to be a cosmetic addition, but the wear pattern on the device suggested otherwise. Another prosthetic device from 650 B.C. made out of cartonnage — linen, glue and plaster — had similar wear patterns.
"There are many instances of the ancient Egyptians creating false body parts for burial, but the wear, plus their design, both suggest they were used by people to help them to walk," Dr. Jacky Finch said.
The wood and leather toe was found attached to the right toe of a mummy identified as Tabaketenmut, who was a priest's daughter believed to have lost her toe following diabetes-triggered gangrene.
Researchers at the University of Manchester tested their theory on two volunteers who were each missing a right toe. They replicated the devices and asked the volunteers to walk on a 10-meter walkway barefoot, in their own shoes and wearing the replicas with and without ancient Egyptian-style sandals.
The movement of the volunteers and the pressure of their footsteps was measured, using the left foot as a control. The findings suggested that wearing the sandals and prosthetic toe together was necessary to preventing discomfort and potential tissue damage.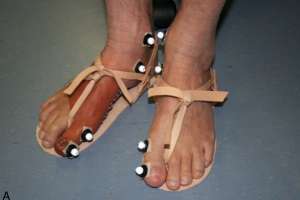 Researchers were surprised at how well the prosthetic devices worked: the cartonnage device allowed for 87 percent of the flexion achieved by the left toe, and the wood-and-leather device allowed for nearly 78 percent.
"The pressure data tells us that it would have been very difficult for an ancient Egyptian missing a big toe to walk normally wearing traditional sandals," Finch said. "They could, of course, (have) remained bare foot or perhaps have worn some sort of sock or boot over the false toe, but our research suggests that wearing these false toes made walking in a sandal more comfortable."
Based on surveys of the two volunteers, the cartonnage replica, although more cosmetically appealing, was the more uncomfortable option. The wood and leather option was found to be extremely comfortable by both volunteers.
"It was very encouraging that both volunteers were able to walk wearing the replicas," Finch said.
The devices predate what was thought to be the oldest prosthetic device — an untested 300 B.C. bronze and wooden leg that was found in a Roman burial in Capua, Italy — by hundreds of years.
×
Related links
Related stories
Most recent Features stories