Estimated read time: 3-4 minutes
This archived news story is available only for your personal, non-commercial use. Information in the story may be outdated or superseded by additional information. Reading or replaying the story in its archived form does not constitute a republication of the story.
PROVO — A BASE jumper is recovering in a Provo hospital after a daring rescue to retrieve him from the face of a 400-foot cliff.
Adam Gardner, 26, and two friends hiked to an area in Provo Canyon that is most likely private property, according to the Utah County Sheriff's Office. Investigators are still looking into whether BASE jumping in that area is legal.
During the jump, Gardner had trouble, slammed into the north side of the canyon and became suspended on the rocks about 200 feet from the ground.
Warren Osborn and his family were on their way home from Sundance around 7:30 p.m. when they saw Gardner hit the mountain.
"We immediately pulled over and drove back up the canyon a little bit. (My daughter) pointed out where it was and we called 911," Osborn said.
They hiked as close as they could and, standing about 80 feet below Gardner, yelled to him that help was on the way.
---
It's about a 400-foot cliff and he's about 200 feet down, just literally hanging there.
–Warren Osborn, called 911
---
"It was shocking," Osborn said. "It's about a 400-foot cliff and he's about 200 feet down, just literally hanging there. Then as we were there, the wind would come and blow occasionally and take on the chute. It looked like if it blew much harder it would take it off and he would fall."
Osborn and his son told Gardner stories, trying to keep his mind occupied until help arrived. Gardner told Osborn and his son that he was in a great deal of pain. He told them he suffered a back injury and that his leg was possibly broken.
"He was cold, scared, and hanging there and wanting help," Osborn said.
Four hours later a rescuer rappelled 200 feet down the cliff, released Gardner from his parachute, and secured him with a rope.
"It was pretty windy," said Kevin Dickerson, of the Utah County Search and Rescue team. "I could see the kite kind of rustling in the wind; it made us pretty nervous."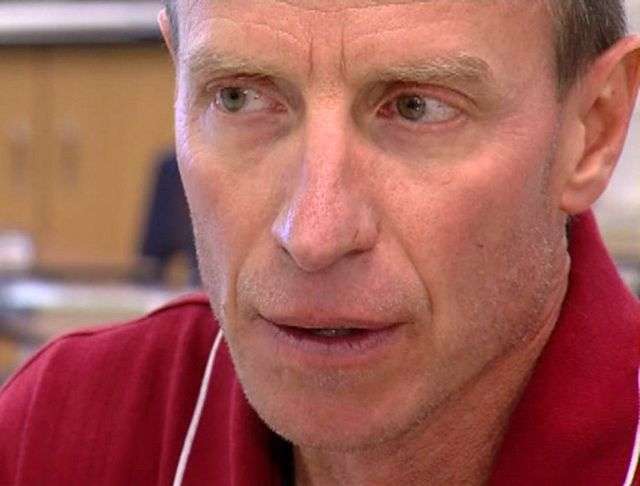 Dickerson carefully made his way to Gardner, trying not cause any falling rock. He said Gardner's first words to him were, "Come on, let's go! Get me out of here."
With the rescue plan still in the works, it was Gardner who came up with one. "(He) said, 'You just throw me a rope, and I'll clip it in 'cause I got a harness,'" Dickerson recalled.
When Gardner was secured, he was lowered to other rescuers waiting below.
"They were able to get some IVs started on the side of the mountain before they brought him down," said Sgt. Spencer Cannon, of the Utah County Sheriff's Office. Cannon said Gardner had injuries from being suspended in his harness for more than four hours, and a broken ankle, but none were life-threatening.
"He's lucky that getting hung up on a cliff is all that happened to him," Cannon added.
Gardner was listed in serious condition Tuesday at Utah Valley Regional Medical Center.
Even though it was a difficult rescue, Cannon said all of the search and rescue members who participated live for this kind of situation.
"There's not one of them that would be anywhere else than where they are," he said.
Gardner is said to be an experienced BASE jumper. A friend, who didn't want to be identified, told KSL News Gardner is calculating and plays it safe in a sport that's inherently dangerous.
In January, Gardner and a friend made news when they took a plunge off the Sheraton Hotel in Nashville, Tenn. Police there cited them for disorderly conduct.
Gardner's friend said Provo Canyon is not a popular cliff among fellow jumpers because of the risk factor.
Contributing: Pat Reavy and Randall Jeppesen
×
Photos
Related stories
Most recent Utah stories