Estimated read time: 2-3 minutes
This archived news story is available only for your personal, non-commercial use. Information in the story may be outdated or superseded by additional information. Reading or replaying the story in its archived form does not constitute a republication of the story.
Tonya Papanikolas reportingIn Utah County, women treated for meth abuse outnumber men by 25 percent. It's a trend seen across the state as the drug's effects tend to appeal to mothers. That demographic brings its own unique challenges, though, when it comes to treatment.
A lot of the mothers are endangering their children with the meth they're using and then losing custody. In order to gain that custody back, the woman is often required to undergo a treatment program, and it's a big help if the children can be a part of the process.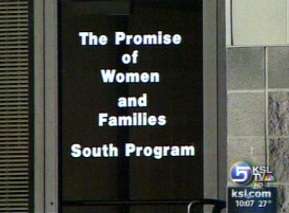 In the past five years, more than 1,200 women were admitted to Utah County substance abuse programs for meth use. Most of them were young women with small children.
Vickie Jaussi, with the Utah County division of substance abuse, said, "For a while it makes them superhuman. It makes them feel like they can do anything. They don't have to eat, it gives them lots of energy for a while."
Jennifer Sommers was addicted to diet pills, another form of amphetamines. She says when she heard meth was the "mom drug," she thought of trying it herself. "I was looking it up on the computer, going, 'If that is what everyone is doing, I need to figure out how to do it.'"
Sommers entered treatment before taking the drug, but she says more than half of the mothers in her program were abusing meth. No matter what their drug of choice, program managers say these mothers have unique challenges in overcoming their addictions.
Richard Nance, with the Utah County Division of Substance Abuse, said, "If they have to worry about what's gonna happen to their kids while they are in treatment, they won't come to start with or they won't stay or finish."
That's why the county offers substance abuse programs specifically for moms and their children. Today a new facility opened up in Spanish Fork.
"It's functionally gonna double or maybe even more than double the available treatment we have now for women with dependent children," Nance said.
When the mothers are in treatment, the kids attend a sort of therapeutic day care. Nance explains, "A lot of these kids have disruptive behaviors because of the poor parenting, because the moms have been high a lot of the time."
The year-long program also teaches women parenting skills. "As you're recovering, you're learning how to deal with your kids on a new level and learning how to deal with them in more healthy ways," Sommers said.
Having their children with them through the program also tends to give women more incentive to overcome their addictions. Program managers say they've had good success rates so far and have seen a lot of families reunited.
×
Most recent Utah stories