Estimated read time: 2-3 minutes
This archived news story is available only for your personal, non-commercial use. Information in the story may be outdated or superseded by additional information. Reading or replaying the story in its archived form does not constitute a republication of the story.
Lori Prichard reportingThe man who helped authorities catch the Daggett County Jail escapees was honored with a cash reward today.
Bill Johnson is a bit camera shy. He doesn't quite understand the fuss that's been made over him and his efforts to help authorities catch escaped convicted murderers Danny Gallegos and Juan Diaz Arevelo.
This was a warning from Jean Balliger back in September when the man who killed her niece was on the loose. "The people of Utah or Wyoming, or wherever they're at, better beware, because if he gets anything in his hands as a weapon, he will kill again."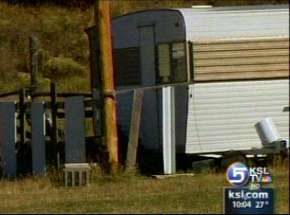 Amazingly, that didn't happen. Instead, Bill Johnson walked back into this trailer one night on the Wyoming-Utah border. He says he walked into a trap. "I glanced over my shoulder and I could see someone with a handkerchief over their face holding a knife that was right there," he said.
At the time, Johnson didn't quite know what to think. "I knew what was going on, and I thought I was stupid for getting caught in this kind of thing," he said.
But Johnson thought he had one thing going for him, his age. He says, "They figured I was a poor old man, and they didn't want to hurt me."
And they didn't. Instead, they bound his hands with duct tape and left. Johnson got out of the tape and ran outside just in time to flag down a passing car. About a half-hour later, the escapees were caught.
That led to today's honor. John Clark, Director of the U.S. Marshals Service said, "Mr. Johnson, it is my distinct pleasure to, really a small token of our appreciation based on what you went through, a check here in the amount of $5,000."
He was handed another $10,000 check moments later. Johnson says that half-hour he was in duct tape was the most excitement he's seen, even after serving 25 years on the Salt Lake City police force.
By the way, the couple in the car that stopped to help Johnson also received a $5,000 reward check today.
×
Most recent Utah stories