Estimated read time: 2-3 minutes
This archived news story is available only for your personal, non-commercial use. Information in the story may be outdated or superseded by additional information. Reading or replaying the story in its archived form does not constitute a republication of the story.
KEARNS — A U.S. Olympic team that trains in Salt Lake City is in turmoil.
The trouble with the U.S. short-track speed skating team goes back 18 months to 2011.
The team, the coach and the program are in disarray. The athlete at the center of the controversy spoke Thursday night with KSL.
The team is on center stage in Kearns this week as the national championships are underway, but there is no unity. For the past year, scandal has shaken the team, and has been somewhat of a mystery to the public.
"For a while, the media and the public have been in the dark about everything," said Simon Cho, a bronze medalist at the Vancouver Olympics.
Cho stands accused of tampering with the equipment of Canadian skater Olivier Jean at the 2011 World Championships, but that is just the beginning. Team members filed grievances against now-suspended U.S. Team coach Jae-Su Chun, accusing him of verbal, physical and psychological abuse, and that he was the mastermind behind making Cho tamper with Jean's equipment.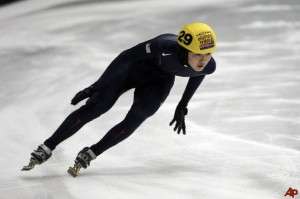 There was a belief that Cho had admitted to wrongdoing in his grievance against Jae-Su Chun, but he told KSL that wasn't the case.
"I actually never came forward with that," he said. "For now, they've all been allegations and rumors and people pointing fingers."
Cho said he plans to fully set the record straight on Sunday at the conclusion of the U.S. Championships. Until then, he somewhat defends his embattled coach as this team continues to be divided.
"You know, I've been working with Jae-Su Chun for around six years now," Cho said. "He's a fellow Korean, and at my peak, he got me where I was, so as a coach, there are things I'm very thankful for him."
The controversy has been a distraction for the team. They have, in large part, decided to train apart from one another. There is an arbitrator involved and looking into the grievances against the coach, and with less than 18 months until Sochi, this is a very real problem for the team.
×
Related stories
Most recent Utah stories