Estimated read time: 2-3 minutes
This archived news story is available only for your personal, non-commercial use. Information in the story may be outdated or superseded by additional information. Reading or replaying the story in its archived form does not constitute a republication of the story.
SALT LAKE CITY -- Restrictions on religious freedom are increasing around the world, including the U.S., according to a new study.
The survey by the Pew Forum on Religion & Public Life says 75 percent of the world's population lived in a nation with high or very high restrictions on religious beliefs or practices during a one-year period ending in mid-2010.
That's up from 70 percent from previous Pew studies.
"Restrictions on religion rose in each of the five major regions of the world - including in the Americas and sub-Saharan Africa, the two regions where overall restrictions previously had been declining," researchers said.
Government and social restrictions on religious freedom particularly tightened in the Middle East-North Africa region, Europe and sub-Saharan Africa. But restrictions increased in countries like Switzerland and the U.S., as well.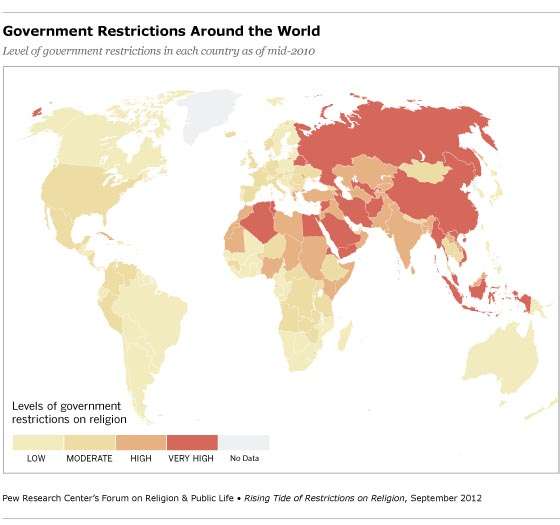 According to researchers' sources, the U.S. score on the government restrictions index rose from 1.6 in mid-2009 to 2.7 in mid-2010. That means the U.S. places in the "moderate" category instead of the "low" category for the first time in the four years studied.
Examples cited of incidents in which people were restricted from practicing their faith included:
Individuals prevented from wearing certain religious attire or symbols, including beards, in some court or prison settings.
Religious groups facing difficulty in obtaining zoning permits to build or expand houses of worship.
At least one state (Oklahoma) tried to restrict the application of Islamic or sharia law.
A prisoner in New York was denied the right to change his religious designation to Muslim.
The U.S. score on the social hostilities index also rose, from the lower end of the "moderate" range to the higher end. One of the key factors, researchers said, was a spike in religion-related terrorist attacks in the U.S. in the year ending in mid-2010.
The study included 197 countries and relied on 19 sources of information. Read more about the study at www.pewforum.org.
×
Related links
Related stories
Most recent Features stories