Estimated read time: 4-5 minutes
This archived news story is available only for your personal, non-commercial use. Information in the story may be outdated or superseded by additional information. Reading or replaying the story in its archived form does not constitute a republication of the story.
Tonya Papanikolas reporting Five and a half million women across North America are believed to have endometriosis. The disease was considered relatively rare in the 1980s, so why has the number of cases been skyrocketing?
Researchers are now focusing on a potential environmental link, and it's information every woman should be aware of.
Endometriosis is diagnosed more often than it used to be. But still, many doctors believe that doesn't account for the huge growth rates.
Now the University of Utah has received a $2 million contract from the federal government to study different environmental chemicals and if they could potentially be impacting or even causing endometriosis.
A year and a half ago Carri Fergusson started having horrible pelvic pain.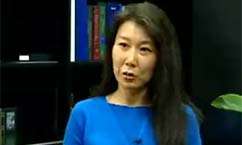 "Some days my pain would be so bad it would be debilitating. I couldn't walk. I couldn't do anything," she said.
After a year of seeing doctors, Fergusson was finally diagnosed with endometriosis. The disease occurs when endometrial tissue lining the uterus grows outside of the uterus.
"I would hate for other women to have to go through some of the things that I had to go through," she said.
But doctors say 10 percent of reproductive-age women suffer from the disease. And pain isn't the only symptom.
Terri Ann Meyer is among 40 percent of patients who suffer from infertility. She's been trying to have a baby for more than seven years.
"It makes you feel -- at least I felt -- broken. I felt less of a woman," she said.
Dr. C. Matthew Peterson, OBGYN chairperson at the University of Utah, said, "It represents a significant health problem for young women."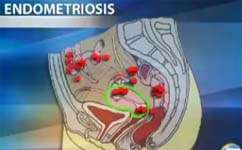 The cause of endometriosis isn't clear. But the scientific community is embracing a possible association with synthetic chemicals in the environment.
Michael Varner, vice chairperson for research at the University of Utah, said, "None of us can get away from them anywhere. We can't go anywhere on the planet and not find these."
In Utah's study, patients undergoing surgery to remove endometriosis growths will also give fat samples to be tested for various chemicals, including "endocrine disruptors" like dioxins and PCBs.
Rod Larson, a toxic chemical researcher at the Rocky Mountain Center for Occupational and Environmental Health, said, "They do not break down very rapidly in the environment."
Dioxins and PCBs have already both been linked to endometriosis. Studies found monkeys exposed to the chemicals developed the disease. And just recently, researchers found women with endometriosis had higher levels of the chemicals in their bodies than other women.
Most people are exposed through the food chain, from contaminated soil, to plants, to fish and animals, and then humans.
The chemicals have turned up in Utah soil. In 1986, the EPA detected dioxin at the old Wasatch Chemical Company. Twelve years later, high levels were found at the old Magcorp magnesium plant.
Through the 1980s, soil tests showed PCBs at the Tooele Army Depot and the Ekotek plant in Salt Lake. This year PCBs were found around several homes at Hill Air Force Base and in Utah Lake fish.
"Enough exposure or a long enough period of time can significantly increase the health risks," Larson said.
Other chemicals that will be studied show up in everyday items. Endocrine disruptor bisphenol-A is found in the inside of metal food cans, hard plastic drinking bottles, some plastic containers, baby bottles and children's sippy cups.
Some scientists believe the BPA chemicals in plastics can leach out into the environment when the plastic is heated. The toxic chemical researcher we spoke with said he doesn't recommend heating plastics in the microwave.
"That emission is going to be both in the vapor that goes into the air as well as possibly to the food," Larson said.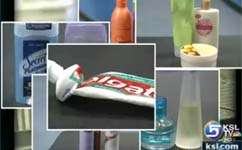 Phthalates have impaired sexual development in male rodents. Phthalates are found in nail polish, shampoo, perfume, deodorant, lotions, hairspray and toothpaste.
"Where I have concern is when they get into the inhalation, if you inhale it," Larson said.
So is it possible these chemicals could also cause endometriosis?
Dr. Peterson said, "We don't know, and that's why the study is being performed."
While the potential is scary, finding a cause could also lead to better treatment and a cure.
Carri Fergusson told us, "Just knowing what caused it would help you better manage."
And Terri Ann Meyer said, "It definitely gives me hope that Mike and my children won't have to potentially suffer this type of fate."
Doctors from five different Utah hospitals will be recruiting more than 400 patients to participate in this study. The fat samples where the chemicals accumulate will be sent out of state to be analyzed. So this is a long process. It will take two or three years before the results come in.
×
Related links
Most recent Utah stories