Estimated read time: 3-4 minutes
This archived news story is available only for your personal, non-commercial use. Information in the story may be outdated or superseded by additional information. Reading or replaying the story in its archived form does not constitute a republication of the story.
SAN DIEGO — Researchers and students from North Carolina State University in Raleigh, under the leadership of Alper Bozkurt, have been working on making tiny robots that can easily be maneuvered to creep, leap and crawl in rough, out of the way, inconspicuous spaces. The tiny robots needed to be about the size of a quarter dollar coin.
Bozkurt asked why not use cockroaches instead of robots, it's been done before. Who knew science could be this much fun?
Bozkurt and his students enlisted Madagascar hissing cockroaches. The cockroach's size is made to order. It is about the size of a person's thumb from the tip to the first joint. The researchers hooked up a tiny microchip backpack to the insect with minuscule wires to both antennae and to a sensory organ called the cerci. The cerci is on the underside of the insect. It allows a cockroach to sense air movement from behind it. Its purpose is to allow it to detect and flee from predators.
Bozkurt conducted a demonstration recently in San Diego at the IEEE Engineering in Medicine & Biology Society Conference of his zombie roaches. Bozkurt calls them "Biobots."
The new technology has an array of uses for the military and first responders, as well as others who think outside the box for new and needed applications. The National Geographic has included an article about Cyborg cockroaches and life-saving applications, including a video at National Geographic News by Amanda Fiegl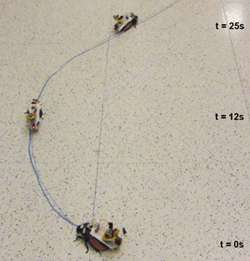 and a photograph of Bozkurt's cockroach backpack outfitted with front and rear electrodes.
Researchers discovered that a measured electrical pulse of about three volts caused the cockroach to move forward. Another jolt to either antenna caused the zombie cockroaches to turn right or left. The pulses are delivered via a joystick, making the insects remote controlled. Human controllers successfully guided the roaches along an s-shaped track on a laboratory floor.
Bozkurt told the Los Angeles Times he saw the roaches as equivalent to horses, except on a smaller scale. "We have been using horses for thousands of years," he said. "We have horseshoes, we have reins. Without that, it would be very difficult to communicate with the horses."
He compares the backpack and wires to a harness and reins of a horse. He says that this application could be useful in military applications, although he did not specifically identify how. He went on to suggest that first responders in earthquakes and other disasters could use the bugs to search for and find victims in debris.
For more information, see a video for grade school kids about bio engineering uses and careers.
A PDF journal article also offers information about uses of cockroaches and insects in biomedical engineering situations.
You can also access information about keeping a hissing cockroach as a pet.
Mel Borup Chandler lives in California. He writes about science-related topics, technological breakthroughs and medicine. His email address is mbccomentator@roadrunner.com.
×
Related links
Related stories
Most recent Science stories