Estimated read time: 2-3 minutes
This archived news story is available only for your personal, non-commercial use. Information in the story may be outdated or superseded by additional information. Reading or replaying the story in its archived form does not constitute a republication of the story.
BYU will play its second road game in 2012 to take on the No. 24 Boise State Broncos on Thursday, Sep. 20. Kickoff is set for 7:00 p.m. MT and will be broadcast live from Bronco Stadium in Boise, Idaho on ESPN and KSL Radio 1160 AM, 102.7 FM and ksl.com.
Fans should tune into the live Countdown to Kickoff pregame show at 6 p.m. MT on BYUtv and BYUtvsports.com. Also tune in to BYUtv and BYUtvsports.com for the live postgame show following conclusion of the game. Pregame radio coverage will begin at 5 p.m. MT on KSL Newsradio 102.7 FM/1160 AM and BYU Radio (SiriusXM channel 143).
BYU (2-1) at No. 24 Boise State (1-1)
Game Notes
BYU (2-1) at No. 24 Boise State (1-1)
Date/Time: Sep. 20, 2012 7:00 p.m. MT
Site: Bronco Stadium (Boise, ID)
TV: ESPN
Radio: KSL Newsradio 102.7 FM 1160 AM
Series Record: Boise State leads 2-0
Last Meeting: 2004 (BSU 28-27)
Kickoff Weather: Clear, temps in the upper-70s
Van Noy named CFPA National Linebacker of the Week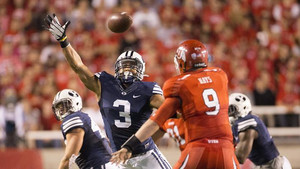 BYU linebacker Kyle Van Noy was named the College Football Performance Awards National Linebacker of the Week.

Though the Cougars fell in a 24-21 heartbreaker to in-state rival Utah, Van Noy made an impact on the defensive side of the ball. The junior from Reno, Nev., totaled eight tackles, 4.5 tackles for loss, 1.5 sacks, forced a fumble and had one pass breakup against the Utes.

Van Noy is tied for No. 4 nationally with 4.5 sacks in 2012 and No. 6 nationally in tackles for loss with 7.5 on the year. This season the 6-foot-3, 235-pounder also has 15 total tackles, 4 quarterback hurries, three pass breakups and two forced fumbles. In 2011, Van Noy was the only Division I player to record a statistic in every major defensive category.

College Football Performance Awards are selected exclusively based upon objective scientific criteria examining how individual players increase the overall effectiveness of their teams.
BYU (2-1) at No. 24 Boise State (1-1)
Sep. 20, 2012 7:00 p.m. MT
Bronco Stadium
Boise, Idaho
Complete BYU at Boise State game notes
SERIES INFORMATION
This is just the third meeting of the Cougars and the Broncos. BYU trails in the series 0-2. The Cougars dropped a 50-12 contest in Provo in 2003 and lost a heartbreaker on a missed field goal in Boise, falling 28-27 to the Broncos in 2004.
MOUNTAIN WEST NO MORE
Boise State is currently in the hunt for its first, and probably last Mountain West championship with plans to leave for the Big East in 2013. BYU spent 12 seasons in the MW, amassing a 64-26 record in the league, winning outright titles three times and tying for another. BYU finished lower than third in the conference only two times in 12 seasons.
RECEIVING STREAK
BYU wide receiver Cody Hoffman has a reception streak of 22 games and counting, tied for the 18th longest streak in the nation. Hoffman has caught a pass in 28 of 29 career games to date. BYU's all-time leading receiver Austin Collie's longest streak with a reception was 22 games. Boise State's Matt Miller has a streak of 15 games with a reception.
SATURDAY-THURSDAY GAMES
Playing a Thursday game immediately following a Saturday game, BYU is 3-1 under Mendenhall in the Thursday game. It's the first time since 2008 that the Cougars have played a Saturday-Thursday back-to-back affair. BYU did it twice in 2006 and then once in 2007 and 2008. Boise State has not played a Saturday-Thursday combo since 2005.
BRONCO'S DEFENSE
Since Bronco Mendenhall has taken over the defensive coordinating duties again (23 games dating back to 2010), BYU has allowed an average of 91.5 rushing yards per game. That mark is bested by only one other team, Alabama.
WATCH OUT HERE I COME
BYU and Boise State have at least one player on these award watch lists: Biletnikoff (WR, BYU-Hoffman/Boise State-Miller), Lombardi (Line or LB, BYU-Hansen, Van Noy/Boise State-Kellogg) and Outland (Lineman, BYU-Hansen/Boise State-Kellogg). BYU has players on the following lists: Butkus (LB-Kaveinga) Davey O'Brien (QB-Nelson), Maxwell (Best Player-Nelson), Nagurski (Best Defensive Player-Van Noy), Doak Walker (RB-Alisa) and Ray Guy (P-Stephenson)
(Photo by Mark Philbrick/BYU Photo)
×
Related links
Related stories
Most recent Sports stories