Estimated read time: 3-4 minutes
This archived news story is available only for your personal, non-commercial use. Information in the story may be outdated or superseded by additional information. Reading or replaying the story in its archived form does not constitute a republication of the story.
SPIRIT LAKE, Daggett County — Killing every fish in a group of lakes and streams to make the fishing better sounds counterintuitive, but that's exactly what state and federal wildlife officials have done here.
Using boats, backpack sprayers and five-gallon buckets, a team of 60 people introduced rotenone Wednesday into the Middle Fork of the Sheep Creek drainage. The goal: To wipe out all the non-native fish so that a native species can return.
"We are restoring the Colorado River cutthroat trout to this drainage," said Trina Headrick, northeastern region aquatics manager for the state Division of Wildlife Resources.
"It is native to this drainage and pure forms of the Colorado River cutthroat trout have not been found in this drainage for many, many years. So it's pretty cool actually," she said.
The project, which has been discussed for at least a decade, includes nearly 8 miles of streams as well as Spirit, Jessen, Tamarack, Gail, Judy, Columbine, Lost and Hidden lakes. It is being funded by a number of entities, including the U.S. Fish & Wildlife Service and the Utah Blue Ribbon Fisheries Advisory Council, Headrick said.
What is rotenone?
Rotenone is a poison derived from the seeds of certain plants, such as jicama.
It has been used by indigenous people to catch fish for thousands of years.
It is poisonous to fish and insects. It is also slightly toxic to humans.
It is sold as a generic insecticide, as well as a way to keep mites off chickens.
All uses for rotenone other than killing fish are being phased out in the U.S. and Canada.
"We've got funding sources that are specific for projects like this," she said.
Jeff Tanaguchi, a member of the Blue Ribbon Fisheries Advisory Council and the president of the High Desert Anglers chapter of Trout Unlimited, said the project area is ideal for the reintroduction of Colorado River cutthroats.
"These high lakes are just absolutely awesome," he said. "These streams are awesome for (reintroduction), and so we'd like to see the cutthroat thrive."
Colorado River cutthroats are descended from coastal cutthroat trout that swam up the Columbia River a million years ago, according to Colorado Parks & Wildlife. The species was once found throughout Colorado, Utah and Wyoming, but now inhabits less than 15 percent of its original range.
"A lot of the trout that you'd think are native to Utah are not," Tanaguchi said. "Brown trout, brook trout, even the rainbow trout were not here in the beginning."
Those non-native species — which were first introduced decades ago by fisheries managers — outcompete the Colorado River cutthroat or crossbreed with them, creating sterile hybrid fish, Headrick said.
"When you bring in that other genetic makeup, you really can't count this as a conservation population," she said.
Fisheries biologists working on the restoration project were careful to use the lowest possible dose of rotenone, out of concern for the aquatic bugs in the lakes and streams. The concentration used was also well below what the U.S. Environmental Protection Agency deems unsafe for human exposure, Headrick said. She added that wildlife shouldn't be harmed either.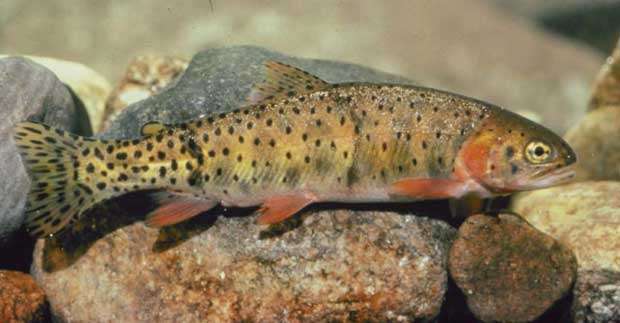 "(Rotenone) is not readily absorbed through the mammalian (gastrointestinal) tract," she said. "So based on what we've been told, based on other toxicity studies, it's not going to harm little critters that come in and drink or that eat these fish."
Even though a relatively small amount of rotenone was used and the chemical was neutralized below the treatment area, Headrick said she still received a number of calls about the project. People were mostly concerned about why wildlife officials needed to kill all the fish, she said.
"It's not the fun part of our job," Headrick said. "I don't want to kill fish. But it is the tool that we have to restore this native (species) to this drainage. So, you know, we're not bad people. We're just trying to do a good thing for a species that really has seen heavy impact over the last 50 to 100 years."
The drainage will be free of rotenone within the next three weeks. At that point the DWR will restock Spirit Lake with tiger trout, a sterile hybrid that won't cause problems for the Colorado River cutthroats, Headrick said.
"If we quit stocking tiger trout, in five years, they'll be gone," she said.
Wildlife officials plan to introduce the first Colorado River cutthroats to the area in 2014.
×
Photos