Estimated read time: 3-4 minutes
This archived news story is available only for your personal, non-commercial use. Information in the story may be outdated or superseded by additional information. Reading or replaying the story in its archived form does not constitute a republication of the story.
SALT LAKE CITY — Two women and one man have been arrested in connection with the death of a 16-year-old boy whose body was found in a vacant lot in Sugar House.
Frank Reyos, 30, was arrested and booked into the Salt Lake County Jail for investigation of murder, aggravated assault and fleeing from police. Jessica Reyos, 38, and Brittney Montano, 21, were booked for investigation of obstruction of justice.
Kenyatta Winston's body was found in a vacant lot at 1120 E. Crandall Ave. (2900 South) the morning of Aug. 29. The teenager had been shot.
Camille Lopez, who was wanted for questioning in the case, turned herself in to police Wednesday. Detectives have also questioned Stephon Evans.
But authorities were still looking for 19-year-old Shelby Reed Wednesday night. Investigators believe she was somehow involved in the murder, but Reed's attorney said his client is innocent.
Attorney Tyler Williams said Reed briefly talked to Kenyatta Winston three days before his body was found. She didn't know him well, Williams said, and can't believe her uncle, Frank Reyos, is accused in his death.
---
He started to overcome some of his issues with little problems that he had along the way. He started doing better for himself.
–Norvert Winston, Kenyatta Winston's father
---
"She, of course, hopes that they're wrong about her uncle," Williams said, "that he didn't do this. But she has no firsthand knowledge about what happened."
Meanwhile, Kenyatta Winston's father said he still has a lot of questions about his son's death, and he hopes the arrests mean answers are forthcoming.
"He started to overcome some of his issues with little problems that he had along the way. He started doing better for himself," Norvert Winston said.
He said the garden in his backyard is a symbol of Kenyatta Winston's progress. The father and son worked on it together.
Elena Clark, a friend to Kenyatta Winston, said she often saw a generous side to the teen. In fact, he taught her 2-year-old daughter how to walk and her 8-month-old how to stand," she said.
"Kenyatta was a joy. He was loved by a lot of people. He really had a good heart," Clark said. "I'm gland that I just got to know him before he left."
Investigators are unclear as to why Kenyatta Winston, who lives in Glendale, was in the Sugar House area. He was last seen alive on Aug. 26 when he got into a silver 2010 Dodge Nitro, a Salt Lake County Jail report states.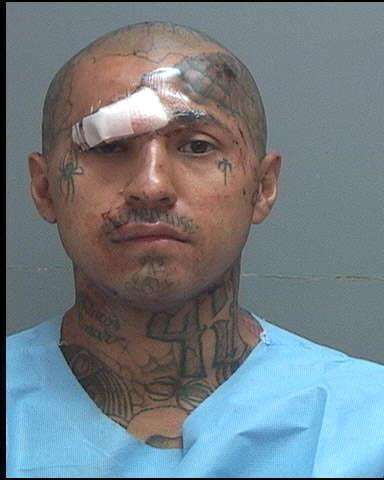 Jessica Reyos, the owner of the vehicle, told police that she loaned her vehicle to a man she knew as "D" on Aug. 26. She later told police his real name and said she was afraid to tell police the information initially because she was afraid of retaliation.
Detectives found what appeared to be blood spatter on the inside of the vehicle, the report states. Another witness said someone whose name was redacted in the report "confessed that he was present when (Kenyatta Winston) was killed and assisted in dumping his body."
It's also unclear if Frank Reyos and Jessica Reyos are related. Police arrested Frank Reyos and Montano Tuesday evening, after he allegedly rammed police vehicles and attempted to flee.
Officers located a suspect vehicle in a parking lot on Main Street and observed Montano getting into the car, Salt Lake police reported. The vehicle left the area but made a U-turn soon after, allowing police to identify Frank Reyos as the driver who was "wanted in connection with the … homicide of Kenyatta Winston."
Officers pursued and attempted to stop the car before Frank Reyos rammed them, police said. He then fled west on 900 South and south on 900 West before a police officer successfully used a pit maneuver at 1000 South to stop the vehicle.
Frank Reyos and Montano both sustained minor injuries in the crash. They were treated at area hospitals before they were transported to jail.
Frank Reyos was also booked on an outstanding warrant charging him with aggravated robbery, violating parole and being a fugitive from justice.
×
Photos
Related links
Related stories
Most recent Utah stories