Estimated read time: 5-6 minutes
This archived news story is available only for your personal, non-commercial use. Information in the story may be outdated or superseded by additional information. Reading or replaying the story in its archived form does not constitute a republication of the story.
SALT LAKE CITY — Two festivals enlivened downtown Salt Lake City Saturday and, though quite different, they shared a common goal: to teach, to share and to enjoy.
Visitors to the 37th Annual Salt Lake City Greek Festival who meandered in from the west or south entered near the doors of Holy Trinity Cathedral, an impressive Byzantine structure where the Greek Orthodox of the community gather and worship. Fragrant incense wafted from the doors as greeters provided pamphlets detailing the building's history.
Inside, there were colorful stained glass windows, chandeliers and large, classical orthodox paintings. Numerous displays and informational handouts explained baptism, marriages, the core beliefs of the faith and its historical evolution.
"We can share our heritage and our faith as well as welcome and host the community," Father Elias Koucas said. "We welcome them just to experience what our faith is... It's about coming into our church and learning about our values and traditions that we hold dear while sharing our hospitality and our culture."
---
We can share our heritage and our faith as well as welcome and host the community. We welcome them just to experience what our faith is.
–- Father Elias Koucas
---
The four-day event began Thursday and continues through Sunday. Bill Drossos, who said he's been involved with the festival for as long as it has existed, said it takes thousands of hours of work from church parishioners and those in the Greek community who donate their time, energy and talents.
"It's an obligation we all inherit," Jon Pezely said. "The festival is when we will see a lot of people we will not see the rest of the year."
Hellenic Cultural Museum
Pezeley is the president of the Hellenic Cultural Association, but he said Drossos was the one with the information. Drossos' labor of love is the Hellenic Cultural Museum, located underneath the church. Amid the wide array of food, the charming dance performances featuring men and women in traditional Greek attire and the import bazaar full of jewelry, clothing and art, this is where the history of Utah's Greek community lives.
Pezeley said around 1910 there were more Greeks in Utah than anywhere else in the nation. They worked in the mines and on the railroads.
"They came to work the jobs no one else would work," Pezeley said.
There are numerous photographs and historical artifacts saved by Utah's Greeks featured in the museum. It is open after church services, on Wednesday mornings and by appointment for other interested groups.
"We wanted to try to display items and pictures of the people of Utah, the people who put this community together," Drossos said.
Sophie Drossos' parents were among those who came to Utah and she said building a life in Utah wasn't necessarily easy-going. Her father came with his brother in the early 1900s and eventually bought land in Farmington. When a friend went back to Greece to get married, her father asked that friend to find him a girl to marry.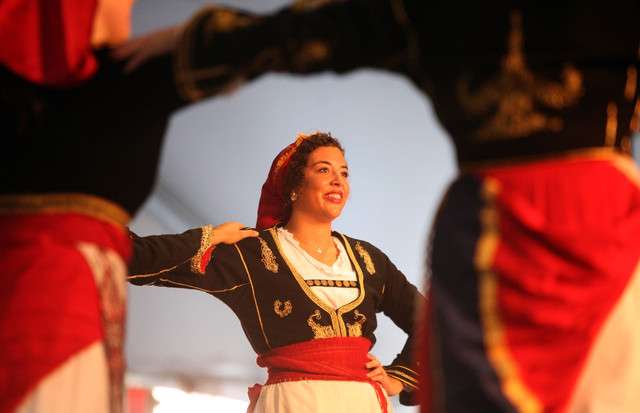 The friend picked out a blonde girl with bright blue eyes and the girl eventually agreed, even if her mother worried, and correctly, that she'd never see her daughter again.
"She became a mail-order bride," Sophie Drossos said.
Her parents wrote back and forth for five or six years before her father went to Greece to bring her mother back in 1929. They saw each other maybe three times before they were wed. Her mother figured it would give her a better life that would allow her to send money to her mother and sisters, which she did. Sophie Drossos' father worked as a farmer his entire life.
"They were pretty typical of a lot of the marriages here," Sophie Drossos said. "With those marriages you never saw a lot of divorce. People were committed to each other. Your main goal in life was to raise your family and have a better life. ... They wanted the best for their children."
Mark Hausam came to the festival from Orem with his wife and six children. He said they enjoy cultural events and attend the Scottish Festival regularly as well.
"I have a general interest in other religions and cultures," he said. "We all do. ... We enjoy the food, the dancing, it's just everything — the atmosphere."
A taste of Brazil
A few blocks east, crowds gathered to take in the eighth annual Utah Brazilian Festival at the Gallivan Center. Many visitors there had ties to Brazil, whether they were born there, served LDS Church missions there or had spouses from Brazil.
With each member of her family garbed in Brazil's colors of yellow, green and blue, Sheila Ballard took in the live music and dancing. She had already taken part in what was the personal highlight, the samba parade in which she performed.
---
The Brazilian people are known for their happiness, their energy. Life is hard, but here we are dealing with it and we're happy.
–- Shirlei Domingues, PR director
---
The event allows her to introduce her children to the spirit of her home country and she has taken part in it for the past five years.
"It's kind of one day a year where you can party all day, try good food — I think it's very fun," she said. "Everybody can dance and have fun."
The festival ran from 1 p.m. to 7 p.m. and featured a samba parade, live music, Braizilian food and dancing. There was no entrance fee, but plenty of lively music to entice visitors.
"If you're Brazilian or not, I think everyone should know about other cultures," public relations director Shirlei Domingues said. "The Brazilian people are known for their happiness, their energy. Life is hard, but here we are dealing with it and we're happy. Here you feel the energy, you feel the happiness."
Andy Lundin said this was the third year he attended the festival, driving up from St. George to do so at the behest of his wife, a native Brazilian.
"It makes my wife happy," he said. "She likes it because she gets to meet up with friends."
As a returned missionary from the country, though, he said he looks forward to the food and music while his wife loves to dance. Each year, he said, the event seems to be growing.
"It's a good mixture of everybody," he said. "It's like a little part of Brazil."
×
Photos
Related links
Related stories
Most recent Utah stories