Estimated read time: 2-3 minutes
This archived news story is available only for your personal, non-commercial use. Information in the story may be outdated or superseded by additional information. Reading or replaying the story in its archived form does not constitute a republication of the story.
Courtney Orton and Andrew Adams reporting It may have been hard to wake up, but thousands did it anyway in order to be the first in line for holiday shopping.
Some shoppers even stayed out overnight to get those early morning bargains. The most sought after items, of course, were electronics.
A lot of stores, including the Target in Midvale, beef up on staff and security for the holidays, especially today. Target had 2,000 people rush the door at 6 a.m., and they weren't alone.
No matter where you were this morning the scene was the same. "I've never been up this early and never been shopping this early, and it's amazing. I've never seen so many people shopping at a store," Matthew, a young first-time shopper, said.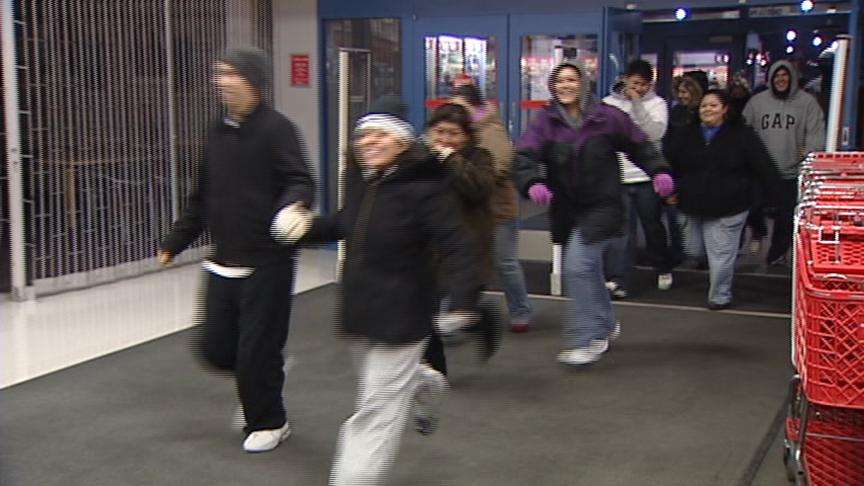 Regardless of the store, shoppers knew exactly what they were after. A bargain-hunter named Janice said, "We got the last two pieces of a luggage set that they had. So it paid to get up early. We've been doing this for 20 years and it's worked well for us every year."
"The photo frames are big. They're about half price what you would get at any other time. This just really works for us," Janice said.
She and her family have a plan. "We stand at the door. We decide who's going to run where. We get it and then we regroup and see what we've missed. When the crowd dies down a little, we go back and get it," she explained.
Some shoppers decided to try Fashion Place Mall when it opened at 12:01 this morning. Others decided to try Best Buy. Some made stops at several stores. "Mervyns, 22 minutes. Shopko, 11 minutes; in and out," one shopper said.
In and out with a little less cash than they started with, but with a lot more stuff. "A 22 inch monitor, and I think we got this iPod dock," another shopper said.
All of the shoppers Eyewitness News talked with said the deals were worth the wait. "We've got clothing. We've got bath. We've got shoes. We've got about it all," shopper Gina Burgess said.
Burgess is also the kind of shopper that had retailers encouraged, including Aubry Burt, store manager at Buckle. "Twelve o'clock it was crazy, and it has stayed crazy and steady," Burt said.
Benny Warren at Zumiez is equally stoked. "We're encouraged for the season. This is a great way to start out the season," Warren said.
Forecasts have called for a weak holiday shopping season because of rising gas and food prices, plus a sagging housing market.
Many stores have been offering discounts for weeks in order to bolster their bottom line for the season, and more are offering great deals on their Web sites. They are hoping to entice shoppers who want the deals but don't want to brave the crowds.
More than 40 percent of consumers are expected to shop online this year.
Today's sales typically make up about 10 percent of the overall holiday revenue for most stores.
×
Related links
Most recent Utah stories