Estimated read time: 2-3 minutes
This archived news story is available only for your personal, non-commercial use. Information in the story may be outdated or superseded by additional information. Reading or replaying the story in its archived form does not constitute a republication of the story.
Jed Boal reportingU.S. troops around the world are eating Thanksgiving dinner. Thousands of troops inside Baghdad's Green Zone are taking part in a traditional turkey feast with all the trimmings.
While American troops celebrate Thanksgiving in Iraq, others are back with their families adjusting to changes at home.
There's a new generation of veterans walking through the doors at the George E. Wahlen Department of Veterans Affairs Medical Center. One disabled vet and his family want to make sure all veterans get the thanks they deserve this holiday season.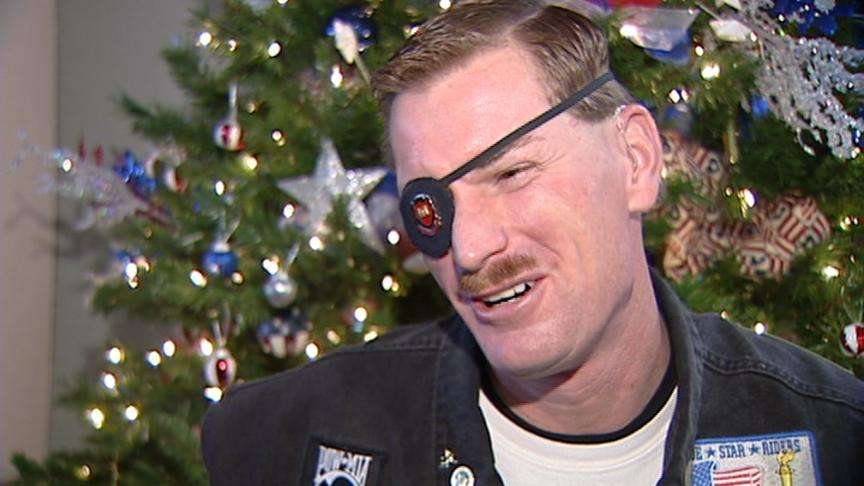 Sgt. 1st Class Gordon Ewell missed Thanksgiving with his family last year. Today, they're together decorating the Christmas tree at the VA Medical Center.
A year ago, he was fighting in Iraq. Ewell said, "It's definitely not a traditional Thanksgiving, but in the sense and spirit of Thanksgiving, what an appropriate day."
Now his family wants to support other veterans. His wife, Terra, said, "The theme we came up with is 'Veterans, Families and Volunteers: a Red, White and Blue Thank You.'"
The former Utah National Guardsman completed 59 combat missions and shared intelligence on roadside bombs.
On six occasions, Ewell's vehicles took direct hits and repeated concussions took a toll. The sergeant returned to his family in Eagle Mountain a year ago with a traumatic brain injury. The injury upsets his memory, motor skills and balance. He's legally deaf and blind and takes some tumbles, but doctors helped him recover. "They've got me physically and mentally in a place where I enjoy Christmas again with my family," said Ewell.
Shelby Ewell, Gordon's daughter, said, "Last year he wasn't home, so having him back for Thanksgiving, it's been different. It's been good though. It's fun."
This year has presented many new challenges for the entire family, which includes the couple, six kids and their extended family.
Cory Ewell, Gordon's other daughter, said, "We've all become more patriotic and stuff and learned more."
And they've grown closer. Sgt. Ewell said, "What a wonderful lesson to be able to teach and for them to learn as well. I'm so excited."
Something they can share with others at the VA Medical Center. Terra said, "We really felt like it was important to thank all veterans from all generations, from all of the conflicts, where they've protected our freedoms."
The Ewells also thank all of the troops and their families separated this holiday season. They've been there before, and they know how tough it can be.
×
Related links
Most recent Utah stories