Estimated read time: 2-3 minutes
This archived news story is available only for your personal, non-commercial use. Information in the story may be outdated or superseded by additional information. Reading or replaying the story in its archived form does not constitute a republication of the story.
Sarah Dallof reportingNine months ago, 18-year-old Sulejman Talovic stormed into Trolley Square and began shooting, killing five and wounding four.
Among the wounded was Stacy Hanson, a husband, father, and Salt Lake City resident. Now, Hanson is adjusting to a very different life.
Hanson recalls the night of the shooting. "I said, 'Hey, don't shoot us. We have families and people we want to go home to.' He told me to shut up and shot me. He shot me three times."
A police officer told dispatchers, "I have one, two, three, four, five, at least five down in Cabin Fever in the mall. Need medical immediately."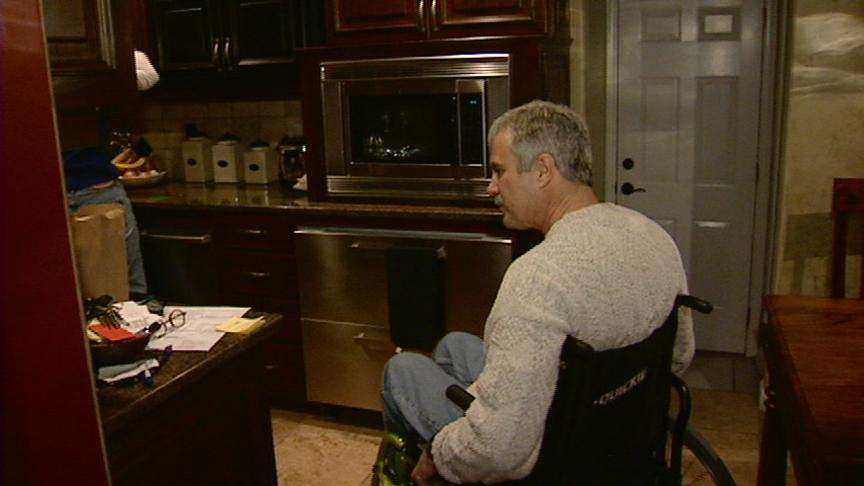 Hanson says, "The only thing I thought about while I was laying there in Trolley Square was, I'm never going to see my wife and family again."
But Stacy Hanson is a survivor. So is his family. And nine months after the shooting, they're back to their day-to-day routine. But the routine is new for Stacy. Since being shot he's been in a wheelchair. Physical therapy is helping, but there's still a lot of work ahead. "I've got some braces, some leg braces, and I'm trying to walk in those, and that's the toughest thing I've done so far," Hanson says.
He also visits a trauma counselor, although he says he rarely thinks about Trolley Square. "I don't have nightmares about it. I don't dwell on it. I try to concentrate on what's in the future and what's now," he says.
And his future is busy. He supports Teen Screen, a program by Columbia University that aims to recognize violent and suicidal tendencies in teens.
Hanson believes it would have red-flagged Sulejman Talovic. He also believes gun laws should be more strict and movies and video games less violent. Hanson says, "Even thought they're games, and everyone knows they're games, they minimize the sanctity of life."
Hanson has good days and bad days. The shooting at Virginia Tech hit him hard. He says, "It didn't bring back flashbacks, but I felt very bad for the people because I knew what they were facing and thinking the moment they thought they were going to die 'cause I was there."
But he says he tries everyday to focus on the good, on his family, and on his goals. He wants to travel without the hassle of his wheelchair, and he wants to walk again on the beach with his wife.
"Our lives are forever changed," says Hanson. "I'll never be 100 percent again, but I'm going to be as much as I can."
Hanson also carries a very visual reminder of the shooting: shotgun pellets lodged in his lower back. He says some pop out every so often, but most will stay there forever.
×
Related links
Most recent Utah stories